Hey! This site is reader-supported and we earn commissions if you purchase products from retailers after clicking on a link from our site.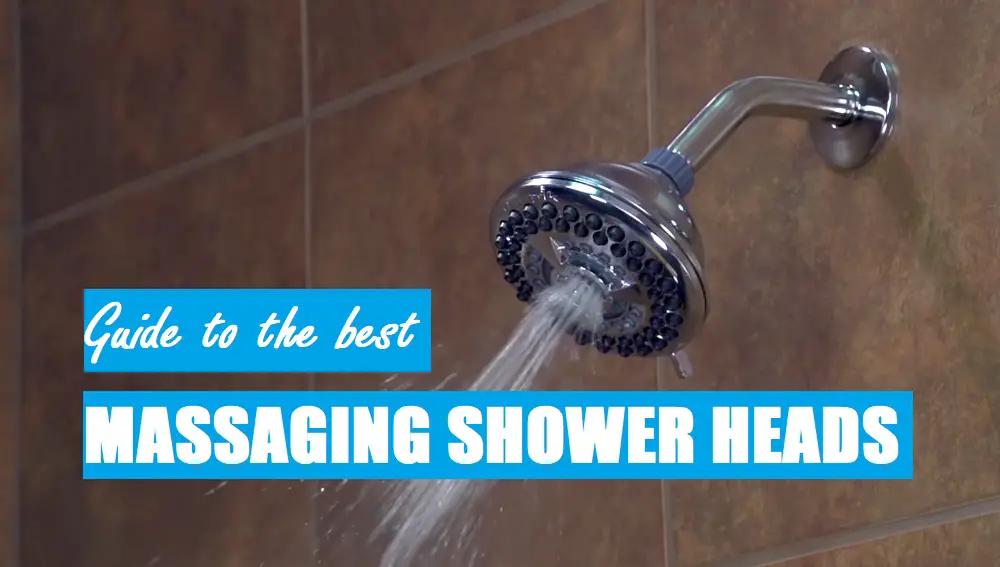 Heat and hydrotherapy are well-known methods for alleviating muscular pain. Fortunately, you can get a nice combination of both these things without having to leave the comfort of your own home. A massaging shower head will clean your skin and hair like usual, but it will also ease your sore muscles with a targeted, strong spray of water. For a full body approach, you can select a slower, wider pulse that targets several areas at once.
Although the basics of every massaging shower head remain the same, each product will have its own specific features. Our guide will introduce you to eight of the best massaging shower heads on the market so you can shop with confidence.
1. Waterpik Twin Turbo Handheld Shower Head
Waterpik Twin Turbo Handheld Shower Head, DSL-653
Features 6 dual-source technology sprays that deliver a high-power experience unlike any other...
Includes OptiFLOW technology, which can improve water force by more efficiently channeling water...
Hand shower with 5-ft faux chrome hose and anti-clog nozzles
2 side-by-side turbo massage jets simultaneously deliver incredible massaging power
2.5 gallon per minute, hand shower head with hose installs in minutes
Last update on 2023-07-21 / Affiliate links / Images from Amazon Product Advertising API
If variety is important to you, then you may want to consider the Twin Turbo from Waterpik. This detachable massaging shower head has six sprays and two intensity settings to choose from, which makes it a nice choice if multiple people will be using it.
For example, the Two-Sided Power Spray turned to the high setting might be ideal for someone who desires a very strong, concentrated blast on a problem area. On the other hand, combining the soft setting with the Full Body Spray Plus Twin Massage will offer benefits for someone who just wants to enjoy a relaxing, luxurious shower.
Another nice touch is the inclusion of OptiFLOW technology. This increases the water force by up to 30 percent without requiring you to boost your existing water pressure.
2. G-Promise Brushed Nickel High Pressure Shower Head Premium 6 Spray Setting Hand Held
G-Promise High Pressure Shower Head 6 Spray Setting Hand...
►SOLID METAL BRACKET HOLDER: It's more sturdy and durable, You will never worry about cracking. No...
►LONG FLEXIBLE 304 STAINLESS STEEL HOSE: 70" stretchable to 75", allows you a wider shower range,...
►MULTIFUNCTIONAL ABS PLASTIC SHOWER HEAD: Made of engineering grade ABS plastic. It's 6 setting:...
►EASY AND FAST INSTALLATION: The package comes with all tools needed for installation, such as the...
►10 YEAR WARRANTY brings you a full confidence. If you have any questions about the item, please...
Last update on 2023-09-07 / Affiliate links / Images from Amazon Product Advertising API
G-Promise delivers a sturdy, multipurpose product with their high-pressure shower head. Longevity shouldn't be a problem thanks to the solid brass shower arm mount and the adjustable ball connector. On top of which, this large, 4.5-inch shower head comes with a 75-inch stretchable hose.
You'll be able to choose between six spray settings, ranging from the peaceful simulation of light Rainfall all the way to a Power or Circular Massage. Even better, this shower head offers combination settings such as Rainfall Plus Power Massage so you can have the best of both worlds. The addition of a 10-year warranty and self-cleaning silicon jet nozzles makes this product very enticing.
3. AquaDance High-Pressure 6-setting 3.5-inch Shower Head
Sale
AquaDance Chrome Finish 6-Setting Shower Head for Maximum...
OUR BEST 10 PICK: This product has been vigorously tested by our professional team of US showerhead...
DELUXE SHOWER HEAD FEATURES: High-power 3.5" Click Lever Dial | Rub-Clean Jets (for easy cleaning...
INCLUDES: Shower Head | Washer | Plumber's Tape | Installation Manual and Warranty. STUNNING GIFT...
EASY TOOL-FREE CONNECTION: No need to call a plumber - installs in minutes with just one...
BEST LIFETIME WARRANTY: Hassle-Free US Limited Lifetime Warranty with LIVE customer service...
Last update on 2023-07-25 / Affiliate links / Images from Amazon Product Advertising API
At less than $10, this shower head from AquaDance is definitely worth considering if you don't require a detachable, handheld unit. The tool-free connection design and limited lifetime warranty are also very nice touches. Although you cannot remove the shower head, the angle of its spray can be adjusted as needed. The rub-clean jets make regular cleaning easy.
Like most massaging shower heads, this 3.5-inch offering features six spray settings for your convenience. Water Saving Pulse mode is a good option for those who are concerned about their water usage. Sore muscles will be soothed by the unit's Pulsating Massage. You can also relax and unwind after a long day with a gentle, yet effective Rain Massage.
4. Delta 7-Setting Handheld Showerhead
Delta Faucet 7-Spray Touch-Clean Hand Held Shower Head with...
INTENSELY POWERFUL: Immerse yourself in the steady, intensely powerful full body spray with forceful...
MASSAGING JETS: Relieve sore, tired muscles with focused, invigorating massaging jets for the...
7 POWERFUL SPRAY OPTIONS: Shower head spray settings include full body spray, wide full body spray,...
EASY TO CLEAN: Delta shower heads with Touch-Clean spray holes allow you to quickly and easily wipe...
Installs in minutes
Last update on 2023-07-21 / Affiliate links / Images from Amazon Product Advertising API
Delta bucks the typical massaging shower head trend in a good way by upping the ante to seven spray settings. Even more impressive is the Pause spray that maintains your temperature setting without wasting a lot of water. This handheld shower head has a long hose, which makes it very useful for bathing children or the family dog.
There are three massage sprays within the unit's seven settings. You can choose between a targeted Massage Spray, the more typical Full Body Spray With Massage or the Drenching Spray With Massage. When you don't need the benefits of an aqua massage, you'll have multiple spray strength options. Whether you want to be drenched or conserve water with the Shampoo Rinsing Spray, this unit has got you covered.
5. CLOFY 28-Setting Combo Shower Head with Holder & Hose
If having a lot of options is what matters most to you, this combo shower head may be ideal. Instead of the typical six spray settings, you can access a total of 28 settings between the two shower heads. This unit comes with a multi-layer chrome plating finish to minimize the risk of scratches. You can also conserve water by using the Champagne Effect. This feature mixes water and air for a noiseless flow that provides the usual pressure without requiring as much water.
Choosing the best spray setting might take a while with 28 options, but that's a good problem to have. Everything from Rain Air to a Massaging Spray are included, and you can mix and match settings between the two shower heads for optimal results.
6. Waterpik XAS-643T Powerpulse Massage 6-Mode Hand Held Shower Head
Waterpik XAS-649T PowerPulse Massage 6-Mode Hand Held Shower...
Brushed Nickel hand held shower head with 6 spray modes, including our new power pulse massage
Features patented technology that optimizes water force – for a deeper, more powerful massage
Up to 2X the massage force of other retail market shower heads
Installs in minutes. 3.25inch Diameter Head
Limited lifetime warranty
Last update on 2023-07-25 / Affiliate links / Images from Amazon Product Advertising API
This product was designed for people who want a powerful water spray. In fact, Waterpik says it has twice as much force as the typical massaging shower head. Anyone who needs a lot of water pressure to help wake them up daily may find what they're looking for in this unit. There are six spray settings and a five-foot hose.
One thing that really helps this Waterpik shower head stand out is that five of the six settings deliver a powerful, high performance spray. Options include Full-Body, Powerpulse Massage and Power Spray. You can also enjoy a combination of these settings, along with the Water Saving-Trickle mode. The shower head is brushed nickel, and it comes with a limited lifetime warranty.
7. Niagara Earth Massage Handheld
Last update on 2023-07-25 / Affiliate links / Images from Amazon Product Advertising API
Instead of focusing on a diverse list of spray settings, Niagara Earth decided to create a product that does one thing very well. This doesn't mean you cannot make any changes to the massage you receive from the nine jets. However, your options are restricted to increasing or decreasing the intensity of the primary spray setting.
Aside from providing a massage, this shower head focuses on being eco-friendly. Regardless of your water power, you'll experience a consistent flow rate. You'll also reduce your associated energy and water consumption by up to 40 percent. The handheld unit has a long, 72-inch tangle free cord. Another nice feature is the non-aerating spray that maintains a higher water temperature.
8. AKDY Bathroom Luxury 3 Setting Multi-Function Massage Jet Handheld Shower Head
Last update on 2023-07-25 / Affiliate links / Images from Amazon Product Advertising API
Anyone who wants an affordable shower head that has multiple spray settings and handheld capabilities may find their ideal match with this offering from AKDY. Although it retails for less than $13, you'll get a 58-inch hose, an attractive satin nickel finish, three spray settings and a one-year parts warranty. The three settings specifically target a relaxing shower experience. You can choose from Rainfall, Mist and Massage Jet based on your needs and mood.
The Massage Jet's concentrated spray is located in the center of the shower head, but you can direct it toward any aching muscles by taking advantage of the handheld feature. This provides a gentler approach than some of the other products on this list, thereby making it a better choice for some consumers.
What Features Should I Consider in a Massaging Shower Head?
Massaging shower heads can come with a diverse list of features and settings. Therefore, you will need to determine your must-have list before you select a new unit. Here is a quick overview of some of the most critical features to consider, along with a set of questions that will help you narrow your focus.
Spray Settings – How many are there and what do they do? Will you use all of them?
Ease of Installation – Do you need one that offers a tool-free installation?
Water Conservation – Is conserving water and energy important to you?
Handheld or Stationary – Do you care if the shower head can be detached and used by hand?
Length of Hose – Is the hose long enough to meet your needs? For example, if you have a dog, does the hose give you enough length and flexibility to easily wash them.
Aesthetics – Does the shower head's finish mesh with your existing hardware?
Once you've answered these questions, the ideal shower head should become clear.
Price Range Comparison
The products listed above currently have a median price of $28.98. They range from $9.99 to $47.99 and are most commonly priced at $39.99. It's important to note that buying the cheapest or most expensive one may not give you the most bang for your buck. Instead, you need to carefully consider the listed price versus the unit's overall value.
1. Budget Friendly – The most affordable options are from AKDY and AquaDance. Going this route will keep your purchase below $13, but you'll also have to give up a lot of functionality. The AKDY product has a detachable shower head, but the stationary head from AquaDance has twice as many spray settings.
2. Mid-Range – Most of these products have a price tag that falls between $24.99 and $39.99. The item with the most bells and whistles is clearly the CLOFY unit that comes with 28 settings and two shower heads. If you don't need all those features, you could save a lot of money by choosing Delta's 7-Setting Handheld for $15 less.
3. High End – The G-Promise is the only shower head in this tier. It often sells for $47.99, although its list price is $61.99. Is it worth the price jump? The brass shower arm should outlast the other products, but it only has six settings.
Final Thoughts
Be sure to pay close attention to the intensity level of each product before making your final selection. Some people may actually prefer a lighter touch, but it's more common to opt for a shower head the boasts a high-performance spray.
Ultimately, a shower head that includes your preferred features at an affordable price is the best choice. Most massaging shower heads are comparable to their non-massaging alternatives in terms of price, quality and longevity. In other words, the perks associated with these products can be had without an exorbitant price tag, which boosts their overall value.