Hey! This site is reader-supported and we earn commissions if you purchase products from retailers after clicking on a link from our site.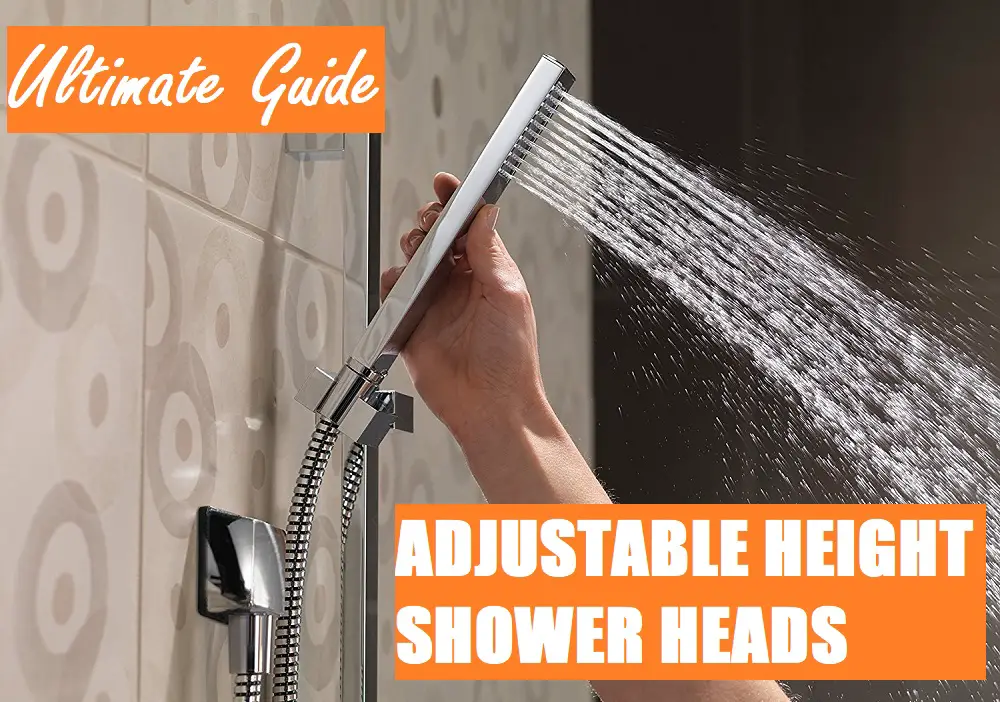 Adjustable height shower heads give you a level of convenience that is hard to match with a conventional shower head. The ability to adjust the height of your shower head avoids the necessity of using tools or even a plumber to position your shower head at your preferred level.
Many adjustable-height shower systems come with a detachable handheld sprayer that can be used to clean any area of your body, and these sprayers often come with unique functions, such as massage features or high-pressure modes. The best adjustable height shower heads are also easy to install, so you will not have to sacrifice hours of your time or spend hundreds of dollars to install your new shower head.
1. Waterpik VSS-563MT
The Waterpik VSS-563MT is a stainless steel shower head that includes an innovative magnetic bracket for secure fastening. The magnetized strip on the Waterpik enables you to easily customize the height of your shower head by sliding the magnetic bracket. The Waterpik has a shower head that is 4 inches wide, and it distributes water evenly for comfortable showering.
You can install the Waterpick in less than 10 minutes since installation requires no screws or tools. Instead, you can set the Waterpick in place using waterproof adhesive pads that are included with the shower head. Most importantly, the Waterpick is built to last, and it includes a lifetime warranty to guarantee an extended useful life. Overall, the Waterpick is a great option if you value easy installation and plan to adjust the height of your shower head on a regular basis.
Read: 9 Double Shower Heads to Upgrade Your Shower With
2. KES F200 Massaging Shower Head
The KES F200 is a compact shower head that offers five massage functions. The F200 has multiple layers of chrome finish that resist scratches and corrosion. One of the best features of the F200 is its 25-inch slide bar that enables dramatic height adjustments without having to remount your shower head.
The detachable spiral hose that is included with the F200 is 79 inches long, so you can move your shower head around with ease. The massage functions on the F200 enable relaxing showering experiences that can reduce the stress in your life. The KES F200 is, therefore, a versatile shower head that is ideal if you want to shower in luxury.
3. Lordear Double Rain Handheld Combo
The Lordear handheld combo offers two separate shower heads in one unit to give you enhanced flexibility. One of the Lordear's shower heads is kept in a fixed position while the other shower head is a handheld unit that can be detached from the wall. The handheld unit offers five functions, including massage, bubbles, and more.
The Lordear's slide bar is 23.6 inches long to give you plenty of room for height adjustments, and the stainless steel hose is 60 inches long. There is also a suction cup to anchor the detachable shower head wherever you desire. The Lordear handheld combo is perfect if you want to avoid the necessity of purchasing and installing multiple shower heads.
4. Delta Raincan Adjustable Arm Shower Head
The Delta Raincan is an adjustable shower arm that is 12 inches long. If you do not want to use your shower head as a handheld unit, the Raincan is ideal because it can pivot across 18 inches of space without having to be detached from the wall. The Raincan also looks great since it is finished with shiny chrome materials.
Delta is a leading shower head manufacturer, and the Raincan includes a limited lifetime warranty to ensure longevity. The Raincan is made from solid brass, and it can be pivoted 180 degrees to give you plenty of flexibility when taking a shower. Overall, the Raincan is a great choice if you want an adjustable shower head that stays in a fixed position.
5. Pulse Showerspas Kauai III
The Kauai III is a luxurious shower system that offers a full-body showering experience. You can install the Kauai III in less than an hour, and it replaces your existing shower head with a large rainfall shower head for enjoyable bathing. The Kauai III also includes a detachable handheld shower wand that can be activated by flipping a switch.
The Kauai III is built with durable stainless steel materials that look great in bathrooms of any style. You can change between functions with ease when using the handheld sprayer by flipping the switch that is attached to its handle. The Kauai III also comes with a 3-year warranty. You should consider the Kauai III if you are looking for a luxurious shower head that looks great and includes a handheld sprayer.
6. Moen Handheld Shower Head
The Moen handheld shower head is a highly functional product designed for easy installation and long-term use. Moen includes a lifetime warranty so that you can be sure that your shower head will not have to be replaced for a long time. The shower head comes with four settings, such as massage, invigorating spray, and other modes.
If you are disabled or want to use your shower head for commercial applications, the Moen handheld shower head can be ideal because it complies with standards contained in the Americans with Disabilities Act. The shower head is also environmentally friendly since it complies with WaterSense standards. The shower head is coated in shiny chrome materials that complement the style of almost any bathroom. The Moen handheld shower head, therefore, can be used for a wide range of purposes while still helping to improve the appearance of your bathroom.
7. KES SUS304 Stainless Steel Shower Head
The SUS304 is a stylish shower head system designed by KES, a leading shower head manufacturer. The minimalist design of the SUS304 helps to save space while ensuring that the product matches any bathroom. Stainless steel is used to give the shower head maximum strength while preventing it from corroding or rusting with long-term use.
A 59-inch shower hose is included with the SUS304 so that you can be free to move around when taking a shower. When the shower head is attached to the included mount, its height and angle can be adjusted with ease by sliding the shower bracket. Overall, the SUS304 is a good option when space and style are important considerations.
8. Nebia Spa Shower Atomizing Shower System
The Nebia Spa Shower offers deluxe luxury that few shower heads can match. Water can be sprayed from the Nebia in a mist of tiny droplets, and this feature gives you 10 times more spray coverage than with an ordinary shower head. The Nebia, therefore, is ideal if you have a busy schedule and want to take fast showers. Despite the improved efficiency of the Nebia, the product manages to use 70 percent less water than a regular shower.
The unique design of the Nebia also helps to make you cleaner after a shower since its high flow rate helps to thoroughly rinse shampoo and conditioner from your hair. The Nebia is designed for simple DIY installation, and it includes cleaning caps that make hard water removal a simple task. The physical design of the Nebia is made to fit any bathroom, and it is sure to attract the attention of guests. The manufacturer claims that the Nebia can save up to 20,000 gallons of water per year, so it is the perfect shower head for people who value efficiency.
9. HotelSpa Stainless Steel Shower Head
If you want a fixed rainfall shower head, there are few options that can beat the HotelSpa. Nozzles are distributed evenly across the HotelSpa's 10-inch surface to give you a showering experience that simulates the soothing effects of warm rainfall. Unlike ordinary shower heads that push water out at high pressure, the HotelSpa lets water gently drip down to give you an immersive and relaxing experience.
The HotelSpa is built from solid brass to offer maximum durability while keeping your shower head in great shape for years to come. You will have little difficulty installing the HotelSpa because it can connect to any standard overhead shower arm in a matter of minutes without needing any tools. Once installed, the HotelSpa can be repositioned with ease using ball joints that can pivot up to 180 degrees. Due to the HotelSpa's excellent design, you should give it serious consideration if you are looking for a rainfall shower head.
10. Aquafaucet Bathroom Shower Set
The Aquafaucet bathroom shower set comes with everything you need for a great showering experience. The Aquafaucet includes both a fixed shower head and a handheld sprayer to give you plenty of options when taking a shower.
A slide bar is included with the Aquafaucet to let you adjust the height of your shower head across a range of up to 47 inches. You can change between showering modes with ease using either a button on the top of the shower system or a button on the handheld sprayer. With a beautiful stainless steel design, the Aquafaucet is the perfect complement for almost any bathroom.
11. Speakman Anystream Handheld Shower Head
The Speakman Anystream is an adjustable handheld shower set that looks great and is highly functional. The mount used with the Anystream can be securely fastened to the wall so that it can be used as a sturdy handle. The product is made from durable brushed nickel materials that offer protection against corrosion and scratches.
The slide bar on the Anystream can be moved up to 22 inches so that you can adjust the mount to your ideal height. The metal shower hose included with the Anystream is 60 inches long, so you can enjoy sufficient space to move the handheld sprayer when it is detached. Overall, the Anystream is a good choice if you want a handheld shower set that is built to last.
12. Lokby Rainfall Shower Head
The Lokby rainfall shower head is built from high-quality materials and offers an exceptional value. A removable water restrictor is included to reduce water consumption to 2.5 gallons per minute, and the shower head is built from materials that resist corrosion. The Lokby rainfall shower head also has a simple and elegant design that can match the style of almost any bathroom.
You are sure to love the Lokby shower head if you are searching for a rainfall shower system that gives you the ultimate morning shower. The shower head is 10 inches in diameter, so it is large enough to cover your body in relaxing warm water to wash away your stress at the end of a long day.
13. Delta Vero Handheld Shower
The Delta Vero gives you a handheld sprayer that is compact and stylish. You can use the Vero as your main shower head or as an accessory if you already have a fixed shower head in place.
The Vero comes with an 82-inch stretchable chrome hose, and the slide bar can easily adjust the height of your sprayer within a range of 24 inches. Overall, the Vero is the best option available if you are looking for a handheld sprayer with a long hose.
As an added benefit, the Delta is equipped with backflow protection via their certified dual check valves.
14. Votamuta Luxury Rainfall Adjustable Shower Head System
Votamuta offers an elegant rainfall shower head system that includes a handheld sprayer. The product is built with durable bronze that is rubbed in oil to prevent corrosion or scratches.
You can switch between the rainfall shower head and the handheld sprayer using a simple diverter switch. Votamuta includes a 2-year warranty with its shower head system, and installation is simple using only the tools that are included. Votamuta's rainfall shower system is perfect if you want to give your bathroom a unique look while improving the functionality of your shower.
Who Should Buy a Shower Head with Adjustable Height?
Conventional bathrooms have used fixed shower heads since before Roman times, so many homeowners wonder why an adjustable-height shower head is necessary. There is nothing wrong with a fixed shower head, but the ability to adjust the height of your shower head can be convenient in some instances. Families who share a bathroom can benefit from being able to adjust the height of their shower head without having to use tools or make physical modifications to their shower.
Simple height adjustments can also be convenient if you like to sit down when taking shower. Some people like to run their handheld sprayer when taking a bath, so the ability to bring the sprayer mount down to a lower level can make the mount easier to reach when you are lower to the ground. You should, therefore, evaluate your own situation when deciding whether you need an adjustable-height shower head since these products can offer advantages or disadvantages depending on your situation.
Adjustable Height Shower Heads vs. Fixed Shower Heads
There are some situations where fixed shower heads can be advantageous. For example, if you never adjust the height of your shower head, a fixed shower head can be advantageous because it will permanently remain in the position that you desire. You will not need to worry about children or guests moving your shower head from your preferred position when it is fixed in place.
The disadvantage of a fixed shower head, however, is that it can be difficult to reposition without significant work. You may need to use tools or even hire a plumber to reposition a fixed shower head in an unusual location. Adjustable-height shower heads have slide bars that mount on the inside of your shower, so you will never have to worry about cutting holes in the wall to reposition your shower head. Most significantly, almost all of the adjustable-height shower heads available on the market offer simple height adjustments that can be made on a daily basis.
Do You Need a Handheld Sprayer?
Another critical decision you will need to make is whether to buy a handheld sprayer. Some shower systems come with one as an accessory, but in other cases you will need to buy a handheld sprayer separately. You also have the option of using a handheld sprayer by itself without a fixed shower head. Handheld sprayers are helpful because they give you a jet of water that you can control with precision for reaching any area of your body. Many models come with multiple functions, such as massage and mist, that can be useful for some people.
Handheld sprayers are available at affordable prices, so many shoppers choose to buy a sprayer as an extra accessory for guests or to increase the value of their home. Almost all of the adjustable-height shower heads that are available rely on a detachable handheld sprayer. Even if you do not want to use your sprayer as a handheld unit, it will function just like an ordinary fixed shower head when you leave it attached to its mount. Many people who do not believe they will ever use their handheld sprayer eventually use it more than their fixed shower head.
Buying the Right Shower Head
The key to choosing the right shower head is to pick a fixture that fits your personal preferences – from aesthetics to performance. In most cases you'll need to consider all the users that share a bathroom with their family or roommates while other bathrooms are only used by guests. If you share your bathroom with other people, an adjustable-height shower head is often advantageous because everyone can adjust the shower head to their desired level. However, fixed shower heads can also be convenient if you do not want other people to change the height of your shower head.
Thinking long-term you should be sure to include the cost of the water a product will save over its useful life. It's probably a good idea to also make sure that your shower head matches your tile, enclosure, and decor. Buying online can be a big win when the company you buy from offers free returns. Choosing the right shower head will give you and your family comfort that can be enjoyed for decades.