<!–googleoff: index–>Hey! This site is reader-supported and we earn commissions if you purchase products from retailers after clicking on a link from our site.<!–googleon: index–>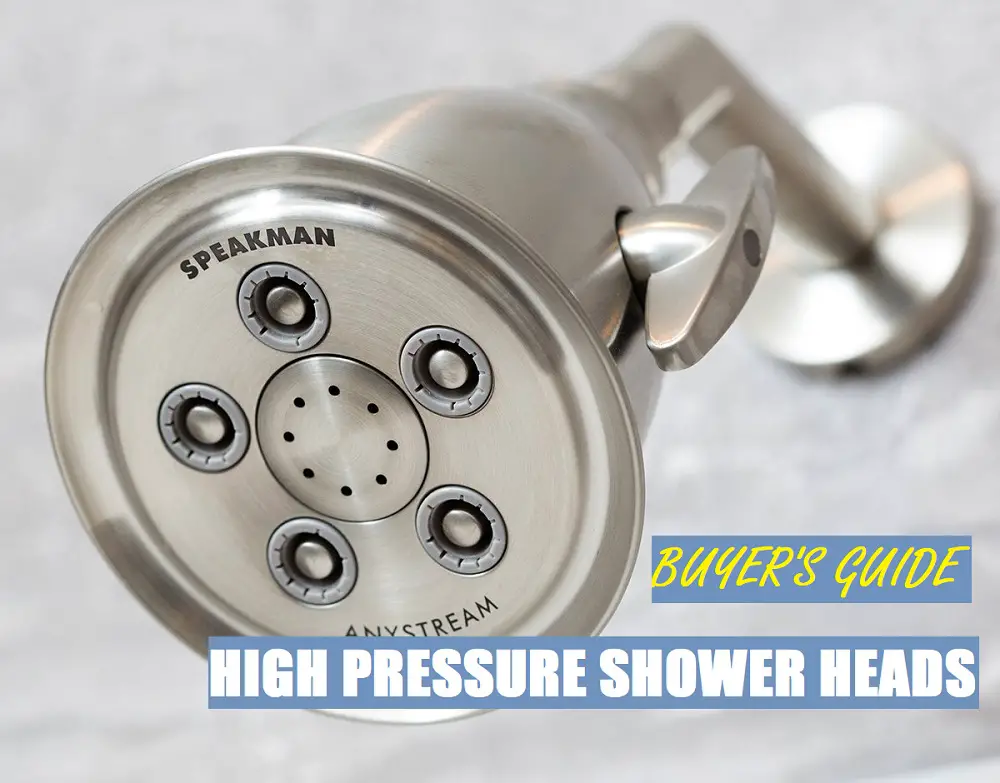 High-pressure shower heads deliver water at exceptional flow rates to give you a better showering experience while reducing the time needed for bathing. The high-pressure models that are available are capable of boosting the pressure found in ordinary water pipes, so these products are ideal for use in homes that have low water pressure. Instead of paying thousands of dollars to increase the water pressure in your entire home, consider one of the 9 models listed below.
Many of the products that are available can boost water pressure without increasing water consumption. You can, therefore, save money on your water bills while still enjoying better performance. The bottom line is that high-pressure shower heads can offer exceptional value in any home.
1. Speakman S-2005-HB Hotel Anystream High Pressure 2.5 GPM Adjustable Shower Head
The Speakman Hotel Anystream uses high pressure to deliver five adjustable jets of water that give your body a thorough wash. Each of the Hotel Anystream's water jets split into 10 different streams, so water flow is distributed evenly across your body. The product is designed to maximize efficiency by limiting the flow rate to 2.5 gallons per minute. A 2-GPM model is also available for buyers who want to push efficiency to its limits.
You can install the Hotel Anystream with little effort since it is designed to fit standard U.S. plumbing connections. The shower head is made from lightweight plastic materials, and it is finished in brass for extra resistance to corrosion and scratches.
See Also: The 13 Best Handheld Shower Heads
2. Delta Water Amplifying Adjustable Showerhead with H2Okinetic Technology
Delta offers an exceptional shower head that amplifies water pressure while using a flow rate of just 1.85 GPM. The product is built with patented H2Okenetic technology that shapes water jets into unique wave patterns that distribute water evenly across your body.
A swivel ball is used to enable 360-degree rotation, and the product is made from durable plastic. You can install Delta's shower head in a matter of minutes since it includes all of the tools and mounting hardware necessary for getting started.
3. Fire Hydrant Spa Plaza Massager Shower Head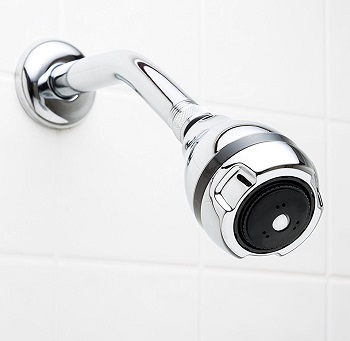 Fire Hydrant Spa makes a high-pressure product that offers massage features to help you relax after a long day of work. For enhanced flexibility, you can choose between high-pressure and low-pressure modes by flipping a switch. When using the high-pressure mode, water is emitted at maximum velocity to give you stronger and faster water flow.
The massage feature puts out a concentrated stream of high-pressure water to give you an invigorating massage, and this feature can be turned on by using a simple button. The product is made from metal materials and has a chrome finish for an enhanced look. Overall, the shower head that Fire Hydrant Spa offers is ideal if you want to boost the pressure of your water while enjoying an optional massage feature.
4. Speakman S-2252 Signature Icon Anystream High Pressure Adjustable 2.5 GPM Solid Brass Shower Head
Speakman manufactures a premium version of its Anystream product that gives you extra water jets and a side handle for simple adjustments. The Signature Anystream has a total of 48 water streams that break up the flow of high-pressure water to give you enhanced comfort. As with the Hotel Anystream, you can choose between models that give you a flow rate of either 2 GPM or 2.5 GPM to reduce water consumption.
One of the best features that the Signature Anystream offers is its elegant side handle that lets you control the water flow rate without having to use tools to make manual adjustments. The shower head also looks great in almost any bathroom, and you can choose between six different finishes when buying the product. If you are looking for a shower head that gives you high functionality while enhancing the appearance of your bathroom, there are few options better than the Signature Anystream.
5. Turbo Spa AirJet-300 High Pressure Luxury 6-setting Shower Head with High-Velocity Flow Accelerator
The AirJet-300 is a high-pressure shower head with generous flow coverage and six settings to give you enhanced flexibility. The product uses proprietary AirJet technology developed by TurboSpa to inject air into the water streams so that you can enjoy luxurious comfort when taking a shower. There is also an adjustable ball joint so that you can adjust the shower head to any angle that you desire.
A water-saving mode is included to bring down your water bills, and the product gives you the option of turning off the water-saving feature with the simple flip of a switch. You can also easily toggle between some of the product's additional settings, such as pulsating massage and power mist. The AirJet-300 is built with a compact design, and it is coated in chrome to give your bathroom an enhanced appearance. The bottom line is that the AirJet-300 comes with a broad range of features and offers an exceptional overall value.
6. Wantba 6″ High Pressure Rainfall Massage ShowerHead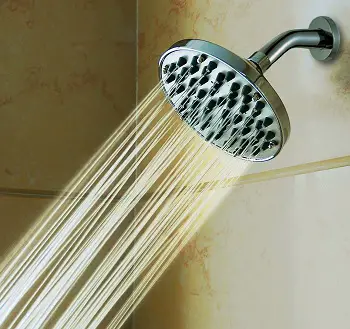 If you want a shower head that can give you a great massage, you will love what Wantba has to offer. Wantba's product simulates rainfall by distributing water across 57 jets, but it can also spray a single high-pressure stream of water to give you a massage in the shower. If you have a problem with low water pressure in your house, the product can boost water pressure on its own so that it can perform well in any bathroom.
Removing residue from hard water is a serious problem for many homeowners, so the product is designed to be disassembled with ease for simple debris removal. A swivel ball is also included so that you can adjust the angle of the water without having to use tools. A flow rate of just 2.5 GPM is used by the shower head. Wantba also made installation simple by using plumbing connections that are standard in U.S. bathrooms.
7. Thunderhead TH2.5 High Pressure Rain Shower Head
The Thunderhead TH2.5 is a high-pressure shower head that minimizes water consumption while giving you an immersive showering experience. The product is designed to simulate rainfall by using dozens of water jets, but it still manages to use just 2.5 GPM to help you save money on your water bills.
With the extra water pressure and widely distributed water flow that the Thunderhead offers, you can take faster and more relaxing showers. The product comes with a simple control valve that lets you easily restrict the flow rate of the water, and it even has an adjustable arm that lets you set the shower head to your preferred position.
8. Aqua Elegante 3 Inch High Pressure Shower Head
If you want to maximize the flow rate of your shower head, the Aqua Elegante is one of the best options available on the market. The product delivers water at an exceptionally high flow rate, but it still manages to use just 2.5 GPM. A removable flow restrictor is included to reduce water consumption, and you can remove the restrictor with little effort by following the instructions that come with the package.
You do not have to worry about removing hard water when you own the Aqua Elegante because the product is capable of removing hard water on its own. Engineers designed the shower head with durable ABS plastic. The manufacturer also includes a 5-year warranty to ensure an extended useful life.
9. SomovWorld Ultra High Pressure Shower Head
SomovWorld offers a high-pressure shower head that gives you a high flow rate while still conserving water. The product has a compact design that is ideal for use in smaller bathrooms or for shoppers who do not want a large rainfall shower head. An adjustable ball joint is also included so that you can control the direction of the water.
The product has a diameter of just 3 inches, so it is among the best options available if you need high pressure without wasting space. The shower head even has a chrome finish to improve the appearance of your bathroom. The product has a flow rate of 2.5 GPM if you use the water restrictor that is included. Overall, SomovWorld's shower head is an exceptional value for homeowners searching for a high-pressure solution that can reduce water consumption.
How is a high-pressure shower head different from a low-flow model?
High-pressure shower heads differ from low-flow models because they can spray water at a faster rate, usually by maintaining standard GPM flow through fewer nozzles. When you want fast-moving water in your shower, water pressure is the most important factor to consider since it determines how fast water will flow from the shower head. Many homes have low water pressure due to the high cost of pressurizing pipes and the placement of their home on hills and terrain that affect pipes and water mains, and these conditions can cause water to pour slowly from a shower head. In extreme cases, showers in homes with low water pressure can drip water using only gravity for acceleration, especially in heavily populated older apartment buildings.
By replacing your existing shower head with a high-pressure model, you can boost the flow rate of your shower's water without having to increase the water pressure in your entire home. Many people believe that increased water pressure makes for better showering because it can enable you to take a faster shower, or thoroughly rinse shampoo and conditioner from thick hair. Higher water pressure also makes it possible to control the direction of water jets with greater precision. The ideal water pressure of a shower is ultimately a matter of personal preference, but installing a product that boosts water pressure is objectively preferable if your home has exceptionally low water pressure.
Read: 8 Massaging Shower Heads for Amazing Relaxation
What is a flow restrictor and how does it affect my water pressure?
As a result of the Energy Policy Act of 1992 most (if not all) shower head manufacturers include a flow restrictor pre-installed with their products to comply with federal law. Some buyers want ultra-high water pressure while other people simply want to account for the low water pressure levels in their home and will opt to manually remove the restrictor to achieve flow greater than 2.5 GPM. Water consumption is also a major consideration from a water bill perspective as well as conservation. Even when cost is not your primary concern, reducing water consumption helps to protect the environment and conserve resources especially in arid climates that have water distribution problems or scarcity.
If you decide to take your water pressure to the next level consult our guide on removing flow restrictors. Generally this is an easy 5 minute job that is achieved by removing a plastic piece with a flat tip screwdriver or tweezers.
What factors influence the water pressure in my home?
With an ordinary shower head, flow rates can be a serious concern when you live in an area with low water pressure. Older homes often have aging pumps that reduce water pressure, and even new homes can have low water pressure when builders use inexpensive pumps in an effort to save money. The size of your home is also a significant factor since water pressure decreases when pumps have to pressurize water across greater distances. Since pumps have to fight the force of gravity, water pressure is lower in homes with multiple stories.
Many communities enact ordinances that require new homes to have a minimum water pressure. However, the minimum pressure thresholds mandated in many communities are very low, and there are often no water pressure requirements that have to be met before selling a home. Additionally, home builders often succeed at getting exceptions to the rules, so high water pressure is not guaranteed unless you do your due diligence before purchasing a home. If you are curious, there are ways to to check the water pressure in your home using a simple pressure testing device.
When should you use a high-pressure shower head?
Instead of spending a significant amount of time and money to increase the water pressure in your entire home, it can be advantageous to use a high-pressure shower head in most cases. Boosting water pressure in your entire home can be expensive since replacing your home's water pump or bartering with your local water authority is often necessary. Increasing the water pressure in your current property can also be problematic because applying higher pressure to existing pipes can lead to leaks and damage that can be expensive to repair.
The bottom line is that high-pressure shower heads should be used in nearly all cases where you want to boost the pressure of water in your shower. Unless you have a serious need for increasing your home's water pressure, it does not makes sense to initiate an expensive plumbing project when you can use an affordable and reliable shower head that will get you the same results.
Picking the Best High-Pressure Shower Head
When choosing a high-pressure shower head for your home, it is important to find a product that will give you plenty of features while saving you money in the long run. You should make sure that a product you are considering comes with a flow restrictor to reduce your water bills. If you plan to do a DIY installation, you should look for manufacturers that give you the tools needed for installation. In many cases, modern shower heads can be installed without using any tools.
Although some products offer an objectively superior overall value, all of the best shower heads available on the market can be good for certain situations. Out of the above choices we've listed you are sure to find a high-pressure shower head that is ideal for your bathroom.