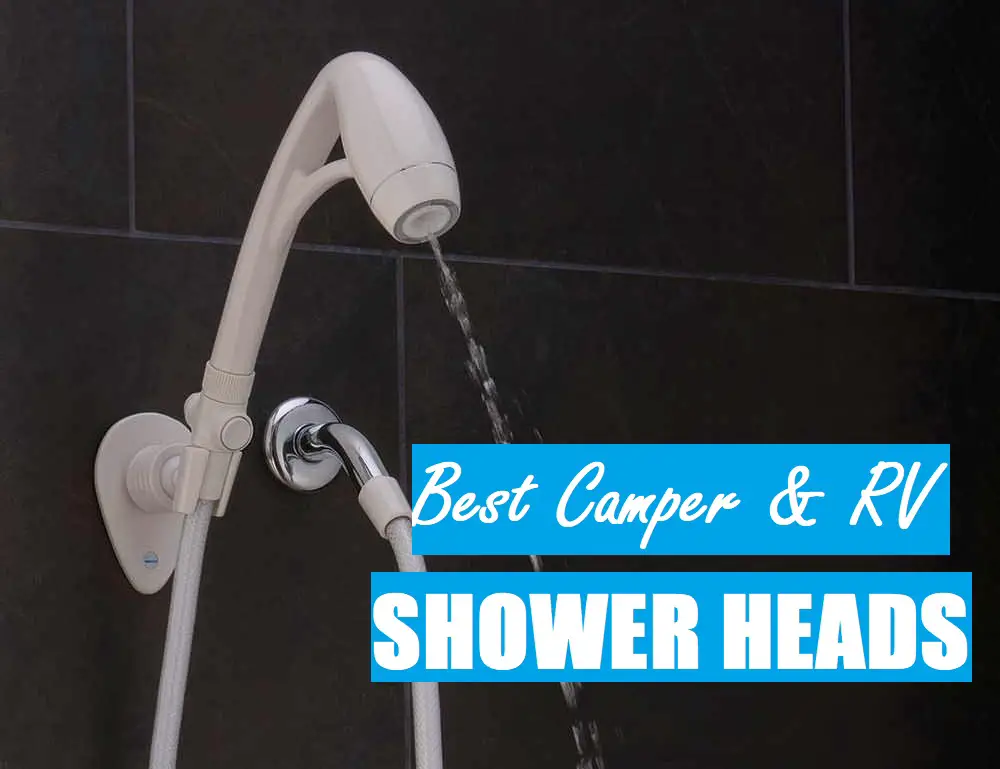 When traveling to your next destination in your camper the last thing you want to deal with is a dud shower head. Low pressure, or one that leaks and drips can instantly ruin your trip and send you on the road back home. Common RV shower heads are frustrating and leave you slightly damp at best, with shampoo and dirt still in your hair. A nice, rejuvenating shower can instantly improve your mood and provide comfort to you while you are in your RV. Luckily replacing the shower head in your RV is a simple swap with little skill involved. If you are tired of your old and run down shower head and looking to purchase a new one, we have just the list for you.
1. Oxygenics Brushed Nickel Body Spa RV Shower Kit
This excellent shower head from Oxygenics has several water-saving features that will save you time and money in the bathroom.
The SmartPulse valve helps to limit water flow without sacrificing the water temperature. It is great at strengthening water pressure to maximize your water usage without wasting any water. This shower head uses less water than most which is great for making your water tank last longer!
This shower head guarantees to cut your shower time in half using its special technology to help you get in and out faster.
2. Camco RV Shower Head with On/Off Switch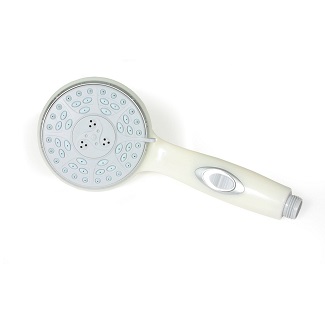 Clean and classic in design this Camco shower head is a must have in your daily routine. The shower head includes a switch to turn the water on and off while lathering up to reduce the amount of water used from your water tank. As a result, this awesome feature will save you tons of time and money as well.
This handheld shower head is easy to install into your RV and features five different spray settings to give you total control of your shower. From a soft rain to a rejuvenating stream, this shower head will take your RV shower experience from dull to dazzling.
3. Dura Faucet DF-SA400-WT RV Hand Held Shower Wand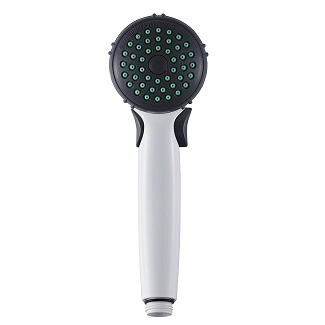 Built to last, this faucet is crafted using heavy-duty materials to ensure you can enjoy great showers from your RV with no worries for years! If you want a shower head that will stick with you for a lifetime, this one is definitely for you.
Constructed with these durable materials, this shower head can handle even the most messy of adventures. This handheld shower wand also has a flow control switch making it easy pause the water flow while soaping up. With a choice of Oil Rubbed Bronze, Satin Nickel, Bisque, White or a classic Chrome finish, Dura Faucet will fit seamlessly into your bathroom's existing finishes. This shower head also has an easy installation to ensure you can get back on the road without any hassle.
4. Oxygenics ETL Plastic Body Spa Shower with 60″ Hose
Another amazing hit from Oxygenics, this shower head is designed to give you the best shower experience possible. Forget the weak showers from yesterday's past, this shower head will give you the most luxurious shower that feels just like a spa in your tiny RV bathroom. After using this shower head you will feel rejuvenated and relaxed.
The patented technology in this shower head uses jet engine power to increase the oxygen content in your water and is self-pressurized, making your RV shower feel like a dream. With its comfort control, you can adjust the water pressure settings from a soft flow to a stimulating stream. Other great features include it's no clog guarantee and super easy installation.
5. Phoenix PF276015 Single Function Handheld Shower
Whether you prefer to start your day off with a stimulating shower to wake you up or end it with a relaxing warm one to help send you to sleep, this Phoenix shower head will fall right in with your daily routine.
This handheld wand features an on and off switch to maximize your water tank without sacrificing any water pressure.
The modern design features a sturdy brass underbody to ensure this shower head will be in your routine for a lifetime. Sturdy in design, this shower head is a great investment for your camper's bathroom.
6. Dura Faucet Shower Wand with Luxury 5-Function Massage Shower Head Replacement for RV's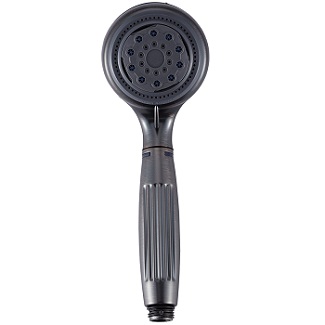 Last but certainly not least on our list is this 5-function shower head from Dura Faucet. With 5 speeds to customize your shower routine, this shower head is one you're guaranteed to love.
This shower head also features a water saving flow control valve allowing you to save water while on the road. It has grooved grips for easy handling and is easy to install to any standard shower hose.
As an added bonus this shower head is made of heavy duty material which makes for years of uninterrupted use.
How is an RV shower head different from a typical home shower head?
While an RV shower head may seem similar to the shower head that you have back home, there are many differences that provide a comfortable shower experience while on the road. RV shower heads have water saving features to allow you to get clean while using the same amount of water as a low-flow shower head. Another great feature many RV shower heads include is a shut-off valve.
These shut off valves allow you to pause the flow of water while you lather your hair, body, or even while you shave to help conserve the water you have in your tank. Shut off valves are great at conserving the temperature of your water as well so when you turn your shower head back on, you won't have scalding hot water or be left ice cold. Many RV shower heads are handhelds rather than fixed shower heads which is another handy feature to save you more time and water.
RV Shower Head Features to Consider
Water pressure is key to feeling at home while showering, yet most RV shower heads lack in this department. Shower heads that are self-pressurizing and feature shut-off valves will save you tons of water and extend the life of your water tank. In fact, most RV's only hold 6-10 gallons of water so these features are key!
Therefore, looking for a shower head with a low GPM (gallons per minute) rating will be life saving to your RV shower experience. Hand-held shower wands are easy to maneuver and make getting the shampoo out of your hair a whole lot easier. Whether you need to clean your hair, wash your pup, or just rinse down your shower floor, this feature allows you to get into even the smallest spaces in your bathroom.
Final Thoughts
The lousy shower heads that may come with your RV just won't cut it and finding a replacement seems like a daunting chore. From leaky shower heads that waste water, to shower heads that have absolutely no water pressure, most models just don't live up to all our expectations. Using our list we compiled the 6 greatest shower heads we could find on the market. Get back into feeling clean, happy, and refreshed while on the road. No need to dread your daily routine anymore as these shower heads will have you looking forward to your rituals once and for all. Now get back on the road and enjoy the adventures that await.