Hey! This site is reader-supported and we earn commissions if you purchase products from retailers after clicking on a link from our site.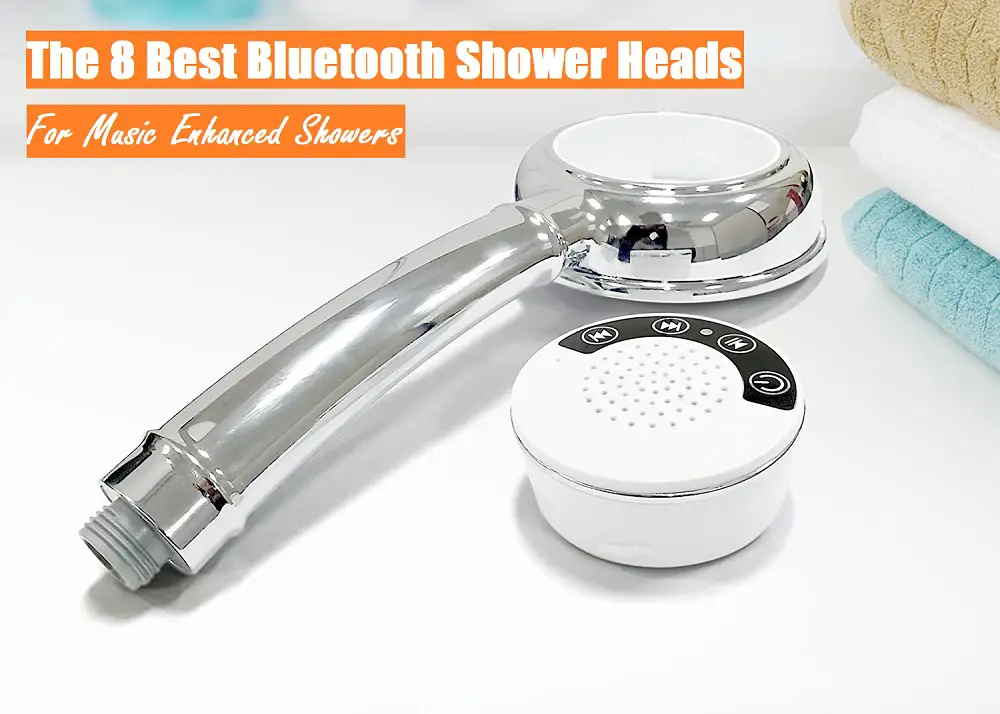 Bluetooth technology enables people to connect with a virtually endless list of components, ranging from their home security system to their refrigerator. Therefore, it's not surprising that one of the latest applications for this highly useful tech can be found inside your shower.
With the purchase of one of these Bluetooth shower heads, you'll gain control of a nice quality radio speaker that emits music from inside the shower. Long gone is the need to blare music from a radio that's sitting several feet away. You can also eliminate the risks associated with allowing your radio, smartphone or iPod to become exposed to humidity and water. In other words, using this buyer's guide will give you the best of both worlds; you'll get to enjoy excellent sounding music and keep your sensitive electronics safe at the same time.
1. Morpilot Shower Head with Waterproof Wireless Bluetooth Speaker
Sale
SparkPod Shower Head - High Pressure Rain - Luxury Modern...
High pressure rainfall shower head: Our luxury bathroom rainhead is the perfect replacement that...
Easy no-tool installation: Our universal shower head quickly connects to any standard shower arm...
Easy to clean nozzles: Our rustproof ABS plastic luxury Chrome Showerhead comes with 90 Powered Easy...
You Come First: At SparkPod, we strive to deliver quality shower heads high pressure products to our...
Energy savings: Each SparkPod Rain Shower Head has a maximum outflow of 1.8 gallons per minute (GPM)...
Last update on 2023-07-18 / Affiliate links / Images from Amazon Product Advertising API
The waterproof, removable Bluetooth speaker included with this shower head makes it simple to listen to music and talk on the phone without exiting the shower. Your attached device can be up to 33 feet away, and you'll be able to answer calls with the touch of a button.
If listening to music uninterrupted is more preferable, this Morpilot product also has you covered with enhanced noise reduction. The speaker can be removed and used elsewhere when you're not in the shower. Another perk is the actual shower part of the shower head; this unit provides a drenching rain shower from an extra-large head. Even better, you'll get strong pressure and simultaneously reduce your water consumption by up to 30 percent.
Read: Upgrade Your Shower with One of These 6 LED Shower Heads
2. YOO.MEE Music Shower Head with Waterproof Bluetooth Speaker for Music
YOO.MEE Magic Rain Shower Heads with LED Mirror Display...
LED smart water conservation rain showerheads for water gallon display
LCD mirror screen on shower face to report both water temperature and water consumption in your...
Intelligent record how much water showering you and your family used all the time
Water powered LED lighting up with database storage, No battery
Easy and fast installation, Teflon tape include in package. ------- 12 months warranty to guarantee...
Last update on 2023-07-20 / Affiliate links / Images from Amazon Product Advertising API
This polished chrome rain shower head from YOO.MEE comes equipped with a waterproof speaker and rechargeable battery. You'll receive 12 to 15 hours of play time from each charge, and you can protect your Bluetooth enabled device by placing it more than 30 feet away from the speaker during each shower.
Switching from music listening mode to talking on the phone is as easy as pushing a single button. The speaker comes equipped with Ultra-noise reduction to help ensure each conversation goes smoothly. This luxurious, spa-like shower head can be installed by anyone. The speaker is detachable, so you can easily convert the shower head into a standard rain model or take the high-quality speaker with you for usage outside the shower.
3. Spa Living White Bluetooth Speaker Rain Shower Head
Other shower heads on this list let you listen to music and talk on the phone, but Spa Living has added a few innovative touches to their Bluetooth shower head. Once this product has been installed, you'll be able to change the volume on your music and phone calls. As an added bonus, you can also skip tracks from the base of the speaker. Whether a song comes on you don't like or you're just not in the mood for it, simply tap the plus or minus key to move forward or backward in your current playlist.
The speaker is removable and rechargeable. You can listen to music uninterrupted for eight hours with a full charge. Installation is easy enough for anyone to do it, and the unit comes with a lifetime warranty.
4. KOHLER K-9245-CP 2.5 GPM Moxie Showerhead and Wireless Speaker
KOHLER K-9245-CP 2.5 GPM Moxie Showerhead and Wireless...
Showerhead with wireless speaker streams your personalized music playlists, news and other audio in...
Syncs with devices enabled with Bluetooth wireless technology including smart phones, MP3 players,...
Total harmonic distortion - 1. 5 watts at 1 kilohertz with less than 1 percent distortion
Water-resistant wireless speaker pops in and out of showerhead for easy recharging
Wireless speaker can be used outside the shower space, independent of the showerhead, to stream...
Last update on 2023-07-20 / Affiliate links / Images from Amazon Product Advertising API
A Bluetooth shower head becomes nothing more than a novelty without the backing of a high-quality bathing experience. KOHLER took this into consideration when designing the Moxie product. The shower head is well-equipped with 60 nozzles, and they're all angled to provide the best possible results. Combining this with a water-saving design and an easily cleanable silicone spray face makes this a shower head that would still be getting attention without the added Bluetooth functionality.
The speaker is water-resistant and connects to devices up to 32 feet away. It can be easily detached for usage in other rooms. After charging the battery to 100 percent, you can expect approximately seven hours of continuous play. Please note: this product does not allow you to answer phone calls.
5. H2oVibe Handheld Showerhead with Bluetooth Speaker
This innovative handheld shower head enables you to enjoy all the benefits of a Bluetooth speaker along with the convenience of a detachable head. To sweeten the deal, H2oVibe has set an affordable price of under $35. Like most of these products, the shower head delivers a rain style flow of water. It also has a larger than usual head for a unit in the handheld category.
The attractive chrome finish and powerful jet spray are intended to duplicate a spa-like experience. The speaker attaches to the back of the unit, which is quite different from most competing products. Another nice touch that sets this shower head apart from the rest is the inclusion of multiple clearly defined buttons. This makes it much easier to toggle between listening to music and answering the phone.
6. FATA FAMA Touch-sensitive Chrome Plated Top Spray Rain Shower Head Jet with Wireless Bluetooth Speaker
FATA FAMA is another company that recognized the need for easier to use buttons on a Bluetooth shower head. The detachable speaker sits in the middle of an extra-large rain spray head. Each button uses a touch-sensitive design that improves the unit's water resistance.
If you want to play music from a device that's located as far away as possible, this product may be your best bet. It can connect from up to 49 feet away, which provides optimal protection for your smartphone, tablet or computer. Installation is simple, and the company's quality guarantee promises a full refund if you experience any quality issues within the first 60 days. The speaker includes noise reduction technology and can play for up to 15 hours per charge.
7. iRainy SH-BS07 Showerhead with Waterproof Wireless Bluetooth Speaker for Music
With a name like iRainy, it's immediately clear this rain style shower head is compatible with Apple products. Fortunately for Android users and those who have devices from other companies, this unit is also compatible with most other Bluetooth enabled items. The iRainy's most notable feature is how extremely large and wide the head is, which provides a full body drenching.
This product boasts a tool-free installation process. You'll be able to easily listen to music and answer calls from your smartphone. The head includes a dual microphone to enhance clarity. The only notable downside to this particular Bluetooth shower head is its limited connectivity range. Unlike other items on this list, you may have to keep your connected device within 10 to 15 feet of the shower to receive quality results.
8. Bidet4me MSH-10 Music Showerhead Waterproof Speaker with Bluetooth
The wide shower head from Bidet4me swivels to help you find the perfect position. You'll also experience powerful rain styled water from 92 nozzles. The water-resistant speaker screws in and out of the head as needed. Despite the generous size and unusual number of nozzle jets, this product was also designed to conserve water without reducing your water pressure.
The speaker switches seamlessly between the radio and speakerphone modes. As soon as you click the button, the music stops and the microphone comes to life. Your Bluetooth enabled device of choice can be located up to 32 feet away. Speaker includes pickup technology and the updated audio algorithms to enhance performance.
What is a Bluetooth Shower Head?
Do you want to listen to high quality music or be able to answer the phone without jumping out of the shower? Does the idea of doing both of these things without leaving your smartphone in the bathroom sound extra appealing? That's where a wireless Bluetooth shower head comes into play. These units do everything you'd expect from a typical shower head, but they also include a water-resistant speaker that typically gives you multiple options to choose from. For example, you may be able to answer the phone, turn the volume up or down and even switch tracks by merely tapping a button.
It's imperative to keep your streaming smartphone, laptop or tablet located a safe distance away from the shower. This is a major part of the appeal of these speakers. Not only do they bring the music and phone calls directly into the shower but they reduce the risk of your sensitive electronics suffering from water or humidity damage.
How Do I Play Music Through a Bluetooth Shower Head?
Most of today's electronics are equipped with Bluetooth technology, so it's not difficult to connect this with a remote speaker. In a nutshell, both items must be Bluetooth enabled and turned on. From there, the two can connect wirelessly without needing to be attached to your home Wi-Fi network. As long as your phone, tablet or laptop has the Bluetooth mode turned on, it should be able to push music through the speaker sitting dozens of feet away.
To make sure everything is ready to operate properly, you'll first need to charge the shower head's detachable speaker and ensure your streaming device is also charged. As soon as you connect everything, you should stop hearing music from your device and begin hearing it exclusively from your shower head. This process can be reversed by turning the speaker off with the button on its base.
See Also: Improve Your Water Flow with a High Pressure Shower Head
Does it Need Batteries?
The wireless, Bluetooth enabled shower head you select will need batteries, but they are usually included. As an added bonus, the battery or batteries inside the unit are mostly rechargeable, so you don't have to waste a lot of money buying replacements. It's standard for these products to utilize lithium-ION batteries.
Recharging your shower head speaker is a breeze with a USB cord. Most of these units include a cord, but even if they don't you probably already have one that came with another device. The USB cord can be easily attached to any charging brick. Alternatively, you can charge your speaker via your computer.
Choosing the Right Bluetooth Shower Head for Your Budget
Budget concerns always bring up one important question: is it better to buy something inexpensive or to invest in a product that's intended to last for a long time? This is entirely up to you, but here's a pricing breakdown to help you decide.
The median price of these products is $45.73. The most common price is $39.99.
1. Budget Friendly – Three of these units are available for $34.95 or less. Of these, one of the most intriguing is the H2oVibe Handheld Shower Head. Of course, if you're not looking for a handheld product, you can cut the price below $28 by choosing the YOO.MEE Shower Head.
2. Mid-Range – $38.95 to $49.99 provides a solid, mid-range product. The least expensive of the bunch comes from Bidet4me. On the other end of the price range is the iRainy shower head. In the middle, you'll find a few items, including the intriguing Spa Living offering that actually lets you skip songs and change the volume from inside the shower.
3. High-End – The KOHLER shower head leads the pack from a price perspective. The list price is $199, but you should be able to get it online for approximately $104. Even with this big discount, it may be difficult to justify the price hike for a product that performs in a similar manner to all the others. However, the shower quality is arguably better with this option, and that may make enough of a difference for you to want to make a bigger investment.
Final Thoughts
Bluetooth shower heads definitely make more sense than exposing your electronics to humidity and moisture, especially since they're often comparable in price to heads without a speaker. The enhanced audio quality that comes from having a speaker in the shower is also a nice plus that's worth seriously considering if you like to listen to music while you bathe.
Answering the phone from inside the shower may or may not appeal to you. Keep in mind that this feature could come in handy during an emergency situation or if you get stuck waiting several hours for an important phone call. Therefore, it may be wise to choose a shower head that offers this added functionality.