<!–googleoff: index–>Hey! This site is reader-supported and we earn commissions if you purchase products from retailers after clicking on a link from our site.<!–googleon: index–>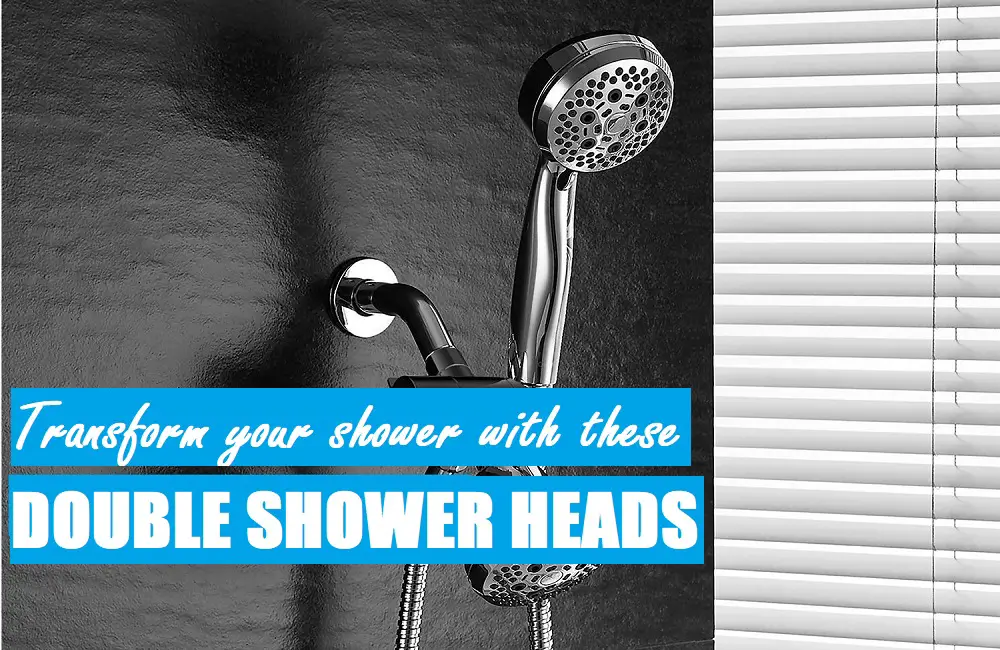 Ever wanted to create a spa-like experience in your bathroom? Upgrading to a dual showerhead unit is a great way to do so. These fixtures are much more versatile than single showerheads, and they have multiple settings and functions that let you choose the spray patterns that you prefer. These combo models also can deliver better water pressure and greater water coverage when you shower. Here are the absolute best double showerheads we could find that offer you the most for your money – and transform your bathroom with a feeling of luxury.
1. AquaDance 7″ Premium High Pressure 3-way Rainfall Shower Combo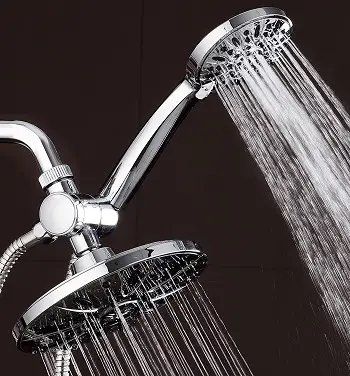 With this showerhead from AquaDance, you can relax your stresses away after a long day with its three-way high-pressure combination.
The seven-inch rainfall shower can help to relax the pressures of your day away. You will also love the premium handheld showerhead, which you can choose to use overhead or as a handheld shower.
The handheld shower has six different settings, allowing you to choose the experience that you would like to have. The handheld shower comes with a five-foot stainless steel hose, helping to make your shower clean-up easy.
2. Hydroluxe Full-Chrome 24 Function Ultra-Luxury 3-way 2 in 1 Shower Head
This Hydroluxe showerhead fits any standard-sized shower arm and is easy to install. It features 24 different water patterns from which you can choose, using either of the showerheads or both simultaneously. The handheld shower comes with a five-foot-long hose, allowing you to clean the shower walls and floor or to gently bathe your baby. There are five settings on both the high-powered showerhead and the handheld showerhead, allowing you to select the shower intensity that you desire.
The eco setting can help you to save water and money. The rub-clean jets allow you to wipe away minerals from the surface of the showerheads with your fingertips so that you can prevent buildup on them. You can adjust your showerhead's angle and position with the overhead bracket. This showerhead comes with a limited 10-year warranty.
3. DreamSpa 1432 3-way Rainfall Shower-Head and Handheld Shower
When you step into the shower with this showerhead combination, you will love the luxurious feeling of the water streaming down on you from this seven-inch showerhead. You can choose to use either the mounted power showerhead or the handheld showerhead, or you can instead use both at the same time. You can switch between the seven different settings easily with the touch of a button, allowing you to enjoy everything from the power of the massage setting to the gentleness of the hydro mist setting.
DreamSpa's showerhead combination comes in a high-gloss chrome that you will appreciate for both its beauty and functionality. The rub-clean jets allow you to quickly sweep away minerals so that you can easily prevent ugly calcium buildup. The lifetime limited warranty means that you can enjoy your showerhead for years to come.
4. LORDEAR Flexible 5 Function Double Rain Hotel Spa Shower Head Handheld Combo
This showerhead combo from Lordear comes with a mounted, adjustable 5-inch showerhead and a 5-inch handheld showerhead in polished chrome. The adjustable slide bar makes this showerhead combo great for children and adults alike. You can cycle through the different functions easily.
The handheld showerhead comes with a 60-inch stainless steel hose, making it very easy for you to clean your shower and tub without needing to bend over. The showerhead has rubber nozzles that help to prevent the buildup of sediment and minerals. The diverter valve is located within reach and is easy to turn. The shower bar has a graceful curve, which adds to the aesthetics of this showerhead combination.
5. AquaDance High-Pressure 30-setting Rainfall Shower Combo with Microban Nozzle Protection
This rainfall showerhead combo from Aquadance comes with Microban technology, which helps to prevent mildew, mold and bacteria so that you and your family can enjoy cleaner showers. The nozzles are also made out of rubber so that they can be rubbed clean, allowing them to remain clog-free so that you can experience improved water pressure.
The combination comes with a 7-inch showerhead that has six settings and a 4-inch handheld showerhead that also has six settings. The hose is five feet long, making it easy for you to reach all areas of your shower when it is time to clean. The combination is easy to install and fits all standard shower arms. This showerhead combo also comes with a limited lifetime warranty.
6. Ana Bath Anti-Clog 5 Function Handheld Shower and Showerhead Combo
This showerhead combo comes with five functions that allow you to experience different spray styles according to your preferences. The five-inch showerheads have nozzles that are designed to prevent clogs. You simply have to push on them for deposits to be released. It has a 60-inch hose, making it easy for you to rinse your hair, clean your shower or wash your dog. The hose and showerhead combo both have the same coating so that their finishes match.
The installation is easy and requires no tools. The three-way diverter allows you to select whether to use one or both showerheads at the same time.
7. Moen Magnetix Handheld Rain Shower Head 2-in-1 Combo
This Moen showerhead attaches to its dock magnetically. You are easily able to detach it so that you can use it as a handheld showerhead. It comes with a rain showerhead and the handheld showerhead. With the three-way diverter, you can choose to which showerhead to use or to use both simultaneously.
The handheld showerhead has six settings and a pause button, which allows you to temporarily stop the flow. The combo has a high-gleam chrome finish that blends well with nearly all types of decor. The rain showerhead has a 6.75-inch spray surface while the handheld shower has a 3.5-inch diameter so that you can enjoy more coverage. The combo comes with a 60-inch hose, making everything within easy reach.
8. Delta In2ition Two-in-One Hand Shower
If you choose this unique Delta showerhead combination, you will enjoy the water pressure afforded by its 2.5 gallons per minute flow rate. Made with a high-polish chrome finish, this shower blends well with all types of decor. It comes with a 69-inch hose so that you can easily clean your tub and wash your children and pets.
This shower combo has five spray settings to address different needs. It is simple to install and takes just a few minutes. You can use the handheld showerhead and integrated showerhead together or separately. The shower combo comes with a lifetime limited warranty.
What is a double showerhead?
Normally, these fancy shower upgrades will include a handheld showerhead together with a fixed overhead showerhead. These neat fixtures give people more flexibility and the ability to enjoy showers with greater water coverage. Many pet owners and parents who have small children prefer double showerheads because it is easier for them to bathe their pets and children with the handheld units. Some combo shower heads are mounted side by side, allowing people to enjoy romantic showers with their partners or spouses. The double showerheads have split shower bars to divide the water stream between the two showers. Many models come with diverters that let you choose to only use one showerhead at a time or to use both simultaneously for more coverage.
Installation
Before installation, make certain that your hot water heater will be able to handle the additional water needs. Most of the units fit existing shower arms. Turn off the water to your bathroom. Remove your old showerhead, and clean the threads with steel wool. Wrap plumber's tape around the threads on the end of the shower arm, screw the diverter valve onto the arm and tighten it. Then, apply plumber's tape to the threads on your diverter valve. Place a washer inside of your new showerhead and screw it onto the diverter valve. Then, apply plumber's tape on the threads of the remaining opening on the diverter valve and attach the hose to the diverter and to your handheld showerhead. Make certain that you place a washer inside each end of the hose before you attach it. After inserting the handheld unit into the diverter valve, tighten up all of the connections with a wrench. Finally, turn the water back on to your bathroom and test your new double showerhead unit.
Advantages
Double showerhead units offer multiple advantages over single units. Because you will have two heads, you will be able to have more water coverage when you shower. You can also enjoy showers with your spouse or partner and can have more water pressure. While single showerheads are limited to 2.5 gallons per minute, you can double the pressure by getting that pressure from each head in your combination unit. They also offer you more versatility in the shower. You can turn one to a soft rain setting while using a stronger massage option on the other. The long hoses that come with the handheld showers also make it much easier for people to clean their tubs and shower walls as well as to wash children and pets.
Final Thoughts
Double showerheads offer people versatility and flexibility with their shower experiences. They are easy to install and can add a sense of romance to your bathroom. When you add a double showerhead, you can turn your bathroom into a luxurious and relaxing space for you, your family and your guests. Choosing one of these models can ensure that you will have one of the best units that are available while giving you the ability to clean your shower and to bathe your pets much more easily.