Hey! This site is reader-supported and we earn commissions if you purchase products from retailers after clicking on a link from our site.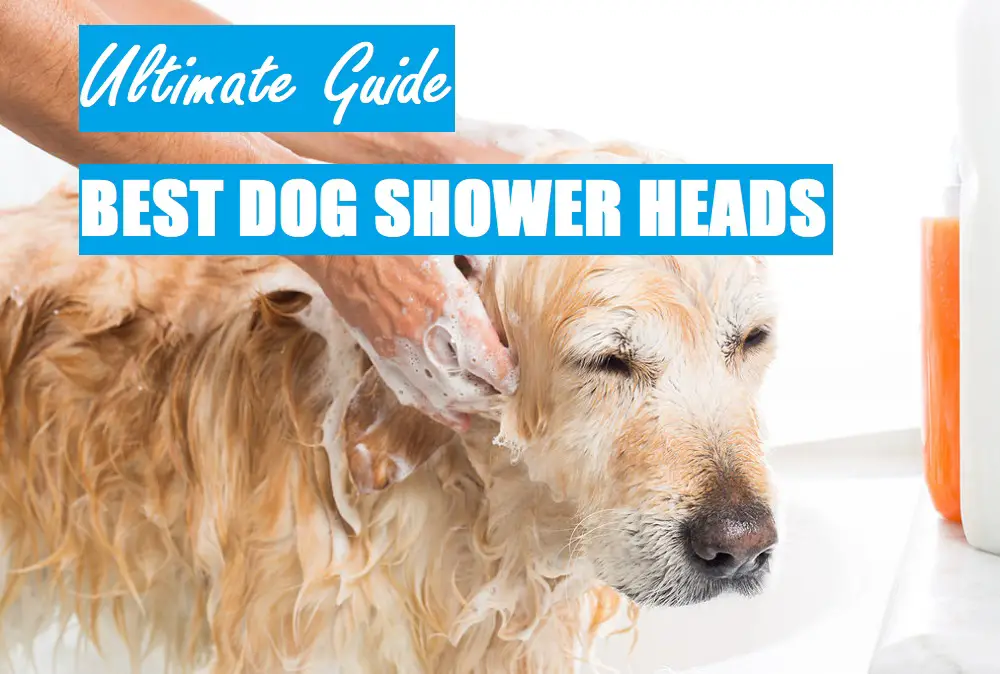 Keep your pet fresh and clean with one of these seven shower heads. Each model is durable and dependable and can be attached to both indoor and outdoor faucets, but some manufacturers only include one type of adapter. Other adapters can be purchased inexpensively.
Choose a model based on your climate and your pet's needs. For instance, not all models offer warm/hot water. If you live in a cold climate, you may want to splurge and purchase a model that uses both hot and cold water.
Other tips: Larger dogs will require a longer hose. Also, animals that don't like the water may learn to appreciate a bath when you use a massage head or brush. There are a variety of dog showers available, so let's take a look at the top seven.
1. Waterpik PPR-252 Pet Wand
Waterpik PPR-252 Pet Wand Pro Shower Sprayer Attachment, 2.5...
EASY & EFFECTIVE: The Waterpik Pet Wand Pro professional grade dog shower unique wand shape provides...
WATERCOMB & NARROW SPRAYS: Contoured water combing spray provides maximum coverage and the power you...
INDOOR & OUTDOOR USE: Install in your shower and easily switch between your shower head and the Pet...
COMPLETE BATHING STATION: The Pet Wand Pro PPR-252 dog bathing system includes the Pet Wand PRO,...
CUSTOMER SUPPORT: Waterpik's Fort Collins, Colorado support team is available to help with any...
Last update on 2023-07-20 / Affiliate links / Images from Amazon Product Advertising API
Go from scruffy to fluffy with the Waterpik PPR-252. This model is used by many professional dog groomers because it has a unique shape that makes washing dogs of any size a breeze.
The full-coverage comb spray is ideal for dogs and other pets who hate baths since it easily penetrates the thickest of fur, but you can use the targeted spray for sensitive areas. Attach it to your indoor shower or to your garden hose for an 8-foot flexible hose.
2. Rinse Ace 3 Way Pet Shower Sprayer with 8-Foot Hose
Rinse Ace 3 Way Pet Shower Sprayer with 8 Foot Hose and...
State-of-the-art, three-setting sprayer makes the shower easier and more enjoyable
Gentle Full spray is ideal for rinsing the hard-to-reach underbelly
Pulsating Massage spray feels great
Concentrated spray is perfect for targeted rinsing of delicate areas
Variable Flow Lever toggles from Pause to Light to Full Flow, saving water and preventing accidental...
Last update on 2023-07-20 / Affiliate links / Images from Amazon Product Advertising API
Give your pet a relaxing massage while you spray away dirt and grime with the 3-Way Pet Shower Sprayer by Rinse Ace. Like the Waterpik, this model also has an extra-long 8-foot hose. You can easily toggle between the three settings (gentle, concentrated and pulsating) to provide a thorough and enjoyable experience for your pet. There's also a water flow toggle that saves water and prevents accidental sprays.
This model comes with everything you need to attach to a standard bathroom shower, but you will need to find an appropriate adapter if you're interested in using it with the garden faucet.
3. DeDe Soon Handheld Shower Bathing Glove
The Handheld Shower Bathing Glove by DeDe Soon is ideal for dogs with thick fur or dogs that need a little extra comforting during bath time. The tool has adjustable hand straps and slide over your hand, so you can comb your pet's hair as you wash them clean. Even though the sprayer is directly on your pet, the water pressure is perfect for providing a relaxing massage. There's also a built-in switch for the sprayer, so you save time and water.
The unit includes a 7.5-foot hose and two adapters — one for your bathtub and one for the faucet in the yard.
4. Reege Dog Shower Sprayer
Dog Shower Sprayer Attachment Set for Pet Bathing and Dog...
COMPLETE SET FOR DOG BATHING SYSTEM IN SUMMER OR WINTER (for MIXED WATER)-Comes with handheld dog...
MULTIFUNCTION-Not only ideal for portable dog shower in bathroom, but also can be used as hand held...
BUILT WITH SOLID MATERIALS-Convenient and frustration free without leaks or sprayer problems-the...
STANDARD AND COMPATIBLE SIZE FOR AMERICA FAMILY-The faucet diverter has 1/2 in. IPS female inlet and...
Last update on 2023-07-20 / Affiliate links / Images from Amazon Product Advertising API
This dog shower sprayer by Reege is unique because it comes with an adapter that allows both hot and cold water to be connected. It's ideal for bathing pets in the winter and is built with premium fittings and materials to eliminate leaks and corrosion. You can easily adjust the water pressure once you've attached it to your bathroom faucet. There's a hose that's over 7.5 feet, which makes it ideal for bathing any size pet.
Since it uses warm water, you can use this as a handheld shower for yourself, as well.
5. Multi-Functional Dog Bath Massager with Handheld Sprayer by Leadrise
Leadrise Multi-Functional Dog Shower Bath Massager Handheld...
★ Shower Head: 10.6 x 6.2 cm / 4.17 x 2.44 inch; Hose: 150 x 2 cm / 59.05 x 0.79 inch.
★ Water saving shower heads made of ABS materials with chrome coated, portable and handy, very...
★ With brush On/Off Switch. Easy to install, Rainfall, Massaging Head and so on. Perfect for all...
★ Massage Shower Bath Tool provides gentle massage and makes your pet bathing enjoyable, help...
★ Package included: 1 x Pet Shower Head; 1 x Stainless Steel Hose(Not included base of the Shower...
Last update on 2023-07-20 / Affiliate links / Images from Amazon Product Advertising API
This is another handheld sprayer that provides an enjoyable massage for pets. The brush can be turned on and off during bathing and has a massaging head or a rainfall mode. Massaging your pet during bath time not only soothes them, it cleans them more thoroughly and decreases shedding.
The hose is only 5 foot in length, but that's plenty big for small pets you want to groom in your bathtub. Pick up an adapter for outdoor use.
6.SmarterFresh Pet Shower
SmarterFresh Pet Shower Sprayer Set, Complete Pet Wash Hand...
CLEAN YOUR PUP IN RECORD TIME - Bath time can be a chore for you and your pet. With strong water...
EASY SELF INSTALL - Everything is included so even the "building challenged" can install this pet...
GREAT FOR HUMANS TOO - Extend the reach of your faucet to anywhere in your bathroom with this dog...
SEAMLESS SHOWER USE - A simple one-time installation and an included 3 way diverter means you...
QUALITY YOU CAN TRUST - Made of PREMIUM 304 STAINLESS STEEL and SOLID BRASS, this shower sprayer is...
Last update on 2023-07-20 / Affiliate links / Images from Amazon Product Advertising API
This pet sprayer has the ability to divert warm water to your existing shower head. Additionally, you do not need to remove the sprayer when you take a bath or shower. You can set the water to flow through the pet sprayer, through the shower head, or through both at the same time. Easy shut-off allows you to instantly stop the flow of the sprayer and restart it without affecting water pressure or water temperature.
The convenience of this model is what keeps consumers happy. Why go to the trouble of connecting and disconnecting every time you bathe the dog?
7. Handheld Dog Sprayer and Massage Brush by Brefac
This massage sprayer by Brefac comes with an adapter for both indoor and outdoor use. The massage shower brush, which improves your pet's circulation and promotes healthy skin, has an on/off button to control water usage. It's gentle flow spray head is designed to prevent excessive splashing, and the unit has an easy-grip handle for when things start to get slippery.
Use it in the bathtub or it comes with a universal adapter for your garden faucet.
How do I hookup my special dog shower head?
Most of the dog and pet shower heads listed here require very little mechanical ability, and none of the models listed require a plumber. The typical pet shower head adapter can be screwed onto your existing faucet or shower head within seconds. There could be some leaking, however. If there are connection issues, try removing the adapter and shower head, then carefully reattach the adapter, making certain the lines are coming together properly with each turn. Once the adapter is in place, use a set of pliers to tighten the connection firmly. If you discover there is still water leakage, add a little plumber's tape if necessary.
If the adapter provided by the manufacturer doesn't seem to fit your faucet at all, you can usually pick up an adapter for $5 or less at a home supply store. It could be that you do not have a standard faucet. Many custom bathrooms have unusual faucet connections.
Overall, the process of installing a dog shower is simple. Do not let the installation stop you from purchasing a unit that can make your life easier and more convenient. The money you'll save by not paying a professional groomer should be enough to entice you to make the leap to home grooming.
What else do I need to get started?
If you suffer from knee or hip issues, grooming your dog in the bathtub may not be ideal since you must bend, squat or kneel to wash your pet in the bathtub. Fortunatley, there are elevated pet baths that can be placed inside your bathtub or set up outside near your garden faucet. The elevated baths are usually around 3 feet high and can be coupled with a dog shower of your choice. Many of these models also have a leash restraint with a collar and a non-slip mat to keep you safe when things get messy. These pet baths have a drain, so you never have to empty standing water at the end of a dog bath. Some models come with a dog shower head of their own.
Next, let's talk about shampoo. There are many varieties, but we will discuss the top categories. If you have a dog who suffers from dry, itchy skin, try an all-natural shampoo made with oatmeal. If that brings the dog no relief, try a shampoo made especially to treat dermatitis. Aromatherapy shampoos are great for hyper dogs or pets that have trouble sleeping. Of course, there are flea and tick shampoos to help combat your pet's worse nightmare. There are also holiday scents, so your little buddy can celebrate with the rest of the family.
Final Thoughts
Choosing a dog and pet shower head is easy, and installing it is a breeze. Best of all, bathing your pet at home can save you hundreds of dollars a year. They're especially economical for those with multiple pets. Bathing your pet at home also gives you more bonding time.
Dogs and other small animals who suffer from anxiety at the veterinarian or groomer will appreciate that you purchased proper tools to bathe them at home. Add a massage brush to the experience and, suddenly, you have one pampered pooch on your hands.
So, go ahead and buy that dog and pet shower massage head and get that tail wagging.