Hey! This site is reader-supported and we earn commissions if you purchase products from retailers after clicking on a link from our site.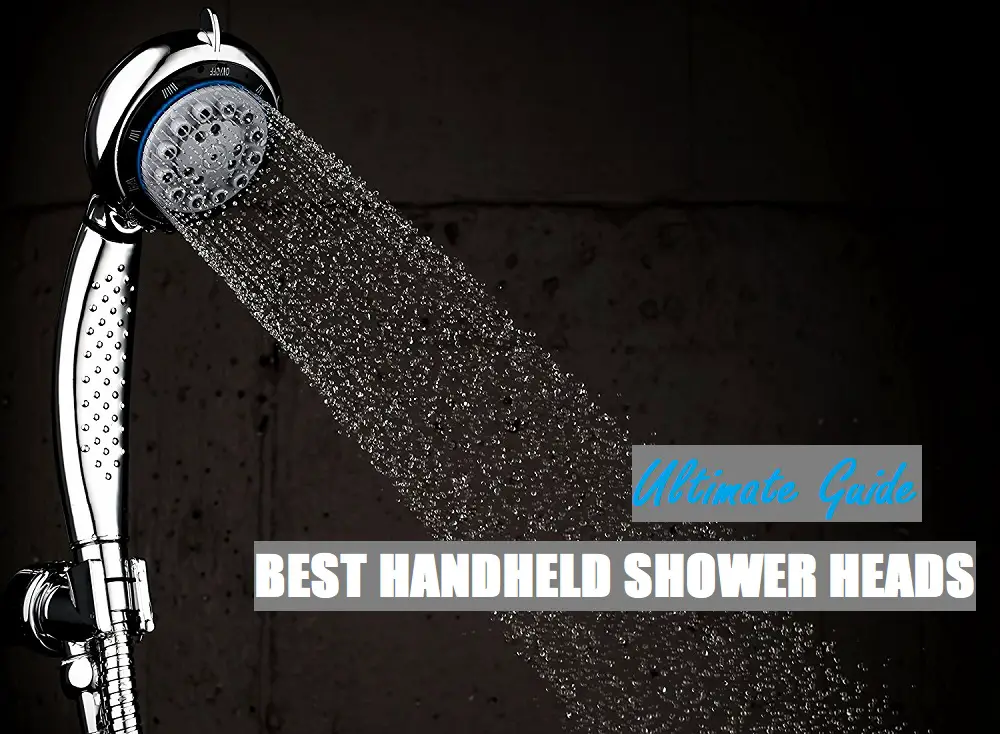 Treating yourself to a leisurely shower in your private bathroom is one of the daily pleasures of modern civilization. A cascade of water adjusted to a comfortable temperature blasts away your tensions and worries, leaving behind a clean sensation of readiness for whatever may come that day. Even the magnificent cast-iron bathing tubs of yesteryear struggle to meet the luxurious standards of modern showering outfits.
If anything, handheld shower heads are even better than their fixed-mount cousins, offering the ability to splash heavenly water from above, below and everywhere else that counts. No nook or cranny is safe from the determination of your shower rig to reach every body part that needs the attention of soap and water. Not all consumer products currently on the market are equal to the task, though. The following list includes 13 top rated detachable shower heads that will help you choose the best option for your own bathroom.
1. HammerHead Showers® All Metal Hand Held Shower Head Set
Sale
ALL METAL Handheld Shower Head with Hose and Brass Holder-...
ALL METAL & BUILT TO LAST A LIFETIME - Unlike the plastic ones that easily break and leak, our hand...
PRESSURE THAT EXCEEDS EXPECTATIONS: No-nonsense, one setting HIGH-FLOW SHOWER SPRAYER that easily...
EXTEND YOUR REACH + HAVE A HEALTHIER SHOWER - with our 6ft long metal hose, you can get your hand...
GET YOUR PERFECT SPRAY ANGLE with our solid brass shower head holder ball - ADJUSTABLE up to 23...
EASILY INSTALLS IN MINUTES –Install our bathroom shower head without any plumbing experience....
Last update on 2023-07-22 / Affiliate links / Images from Amazon Product Advertising API
Simple, solid and high performing. HammerHead Showers® hand held shower head set is quite a rarity in the shower head industry, as it is built from all metal components. If you're reading this, you may very likely be replacing an old plastic showerhead that broke and started leaking way sooner than you would have thought. Say no more to this issue with an all metal shower head! Here's a breakdown of the high-quality materials HammerHead Showers® uses: hand shower (304 stainless steel with silicone nozzles); adjustable shower holder (brass) ; 72 inch shower hose (304 stainless steel outer coil, commercial grade EPDM inner tube and brass connectors.)
But it's not all about the material quality. With a 4 inch diameter spray face, the flow of water is nicely concentrated through the nozzles to create large, enveloping streams of water. Available in both 2.5 GPM and 1.75 GPM flow rates, the flow rate is optimized by using the top of the line Neoperl® flow regulators that pressure regulates so you get the same flow rate even if you have low household water pressure. Backed by HammerHead Showers® Limited Lifetime Warranty, you can trust that this metal shower head is built to last!
2. Culligan HSH-C135 Hand-Held Filtered Shower Head with Massage
Culligan HSH-C135 Hand-Held Filtered Massage Showerhead,...
Provide your shower with clean, great-feeling filtered water for softer and cleaner skin and hair
Includes: Showerhead; Filter cartridge; Teflon tape; Metal hose; Bracket; Filter change reminder...
Certification: Tested according to NSF/ANSI 177 for reduction of free available chlorine
Filter Life: Up to 10,000 gallons or 6 months, depending on usage and water conditions
Last update on 2023-07-22 / Affiliate links / Images from Amazon Product Advertising API
This sleek product boasts five spray settings and an industry-standard water-flow limiter for economical water consumption. Culligan's shower head includes a bacteriostatic water filter aimed at blunting the impact of impurities in municipal water supplies by substantially reducing the levels of odorous sulfur, harsh chlorine and hard minerals that reach your skin and hair while also limiting the growth of unwanted bacteria in the shower head. The manufacturer claims a lifespan of 10,000 gallons for each filter cartridge, which translates into approximately six months of usage for most households. The five-foot metal hose screws easily without tools onto any standard 1/2-inch threaded shower arm. A five-year limited warranty rounds out the picture for savvy consumers.
Many shower fans will be reassured by the heft of this unit and the complex rubberized nozzles that promise pulsating water massages that work out all your cares. The five-foot hose is ample for reaching where it must. Each shower will bring the temptation to try out all the settings once again to see which one works best for the occasion.
Read: 6 Top Rated Color Changing Shower Heads to Light Up Your Shower
3. Delta Seven-Setting Handheld Shower Head
Delta Faucet 7-Spray Touch-Clean Hand Held Shower Head with...
INTENSELY POWERFUL: Immerse yourself in the steady, intensely powerful full body spray with forceful...
MASSAGING JETS: Relieve sore, tired muscles with focused, invigorating massaging jets for the...
7 POWERFUL SPRAY OPTIONS: Shower head spray settings include full body spray, wide full body spray,...
EASY TO CLEAN: Delta shower heads with Touch-Clean spray holes allow you to quickly and easily wipe...
Installs in minutes
Last update on 2023-07-21 / Affiliate links / Images from Amazon Product Advertising API
Delta, a major manufacturer of plumbing products, struts into the bathtub and shower market with a curvy, seven-setting marvel that includes everything from a rousing, full-body spray that pummels away dirt and grime to a "soft rain" spray that gently moistens your body in preparation for further ablutions. A straightforward pause setting cuts the flow altogether until you're done with lathering, shaving or shampooing. Delta claims the unit's specially designed soft rubber spray holes eliminate the need to use dedicated cleaning products to routinely demineralize the shower head in areas afflicted with hard water. An amazing 15-year warranty showcases the manufacturer's confidence in its product durability.
The six-foot, aluminized hose is long enough to satisfy virtually everyone, and the ergonomically designed shower head strives with multiple massage options to please the pickiest fan of thrumming water. Environmentally conscious customers can choose between the maker's two-gallon-per-minute and two-and-a-half-gallon-per-minute versions for optimum water-consumption efficiency. This economical yet feature-laden showering option seems likely to meet the needs of the majority of purchasers.
4. Wassern Handheld High-Pressure Nine-Setting 74-Jet Shower Head
Handheld Shower Head, Wassern High Pressure 9 Setting 74...
PREMIUM QUALITY AND 9 SPRAY SETTINGS: Wide Full Coverage and Anti-Leak modern Design. Lasting Finish...
ANGLE-ADJUSTABLE OVERHEAD BRACKET for perfect flow direction. EXTRA-FLEXIBLE long premium 60 inch...
POWERFUL HIGH PRESSURE OXYGENIC SPRAY: : 2.5gpm flow control. Powerful Rinsing Spray infuse water...
SAVING WATER: Saving water with our Ecoswitch Water Saving Button and Trickle dial. INSTALL in...
YOU SHOP, WE GIVE! SAVE WATER, SAVE WORLD! When you shop Wassern Showerheads on Amazon, we list low...
Last update on 2023-07-22 / Affiliate links / Images from Amazon Product Advertising API
This ambitious entry from Wassern purports to bring high-pressure cleaning power to the masses at a very affordable cost. Ranging from a punishing power spray to a water-saving trickle, the Wassern unit intends to cover every need with nine different settings. Tool-free installation comes easily with most standard threaded shower arms, and the 60-inch stainless-steel hose delivers a serviceable reach. The manufacturer offers a limited lifetime warranty for USA purchasers.
A fair number of customers will appreciate the ability to quietly extract the flow limiter from this product with a pair of long tweezers, thus making the most of limited water pressure or achieving maximum performance from high-pressure systems. A lightweight solution aimed at cost-conscious consumers, the Wassern handheld unit could be the answer to your showering needs.
5. Chrider Handheld High-Pressure Shower Head with Five Spray Settings
Ranging from "power massage" through "waterfall mist," this Chrider product strives to strike a usable balance between complexity and simplicity with its five spray settings. Medical silicone nozzles promise comfort and ease of cleaning, and the 60-inch, stainless-steel hose will satisfy the great majority of users. The overhead bracket features an adjustable, swiveling brass-ball joint for maximum flexibility while using the shower head in its fixed position. An included filter sequesters sand and grit before it can get through to sting your skin and eyes. A one-year manufacturer's warranty stands behind the product.
The minimalist design of the Chrider unit is accompanied by lots of free-flowing nozzles and a loosened flow limiter for a plentiful supply of water, which will please individuals who prefer heavier, shorter showers over longer, water-sipping sessions. The ability to remove the included water restrictor with a pair of long tweezers adds still more flexibility for grownups who know exactly what they want from their shower experiences.
6. AquaDance High-Pressure Six-Setting Handheld Shower Head
Sale
AquaDance High Pressure 6-Setting 3.5" Chrome Face Handheld...
Our best 10 pick : This product has been vigorously tested by our professional team of US showerhead...
Deluxe 6 setting hand shower: Can be used as Overhead or Handheld shower, High-power Click Lever...
Angle-adjustable overhead bracket: Lets you point hand shower where you want it for hands-free...
Includes : Handheld Shower, Shower Hose, Overhead Bracket, Washers, Plumber's Tape, stunning gift...
Easy tool-free connection: No need to call a plumber. Fits any standard shower arm. best American...
Last update on 2023-07-22 / Affiliate links / Images from Amazon Product Advertising API
A design that evokes a turbofan jet engine kicks off the functionality of this mid-market shower head from AquaDance. Its six settings include the usual hard spray, soft massage, "waterfall mist" and water-sipping modes. A subtly curved handle promises ergonomic comfort, and the jet face features smooth surfaces for easy cleaning of lime and mineral buildups. The standard stainless-steel, five-foot hose delivers the expected reach, and the adjustable overhead bracket is a little stiff but still very usable. The product comes with a limited lifetime warranty from the manufacturer for USA purchases.
Many purchasers of this product likely will want to enhance their unit's performance by removing the internal flow restrictor with a pair of needle-nose pliers or long tweezers, resulting in faster delivery of cleansing water. The brass hose nuts are best tightened firmly by hand to avoid damaging the unit. All in all, the AquaDance handheld shower head bids fair to offer a solid daily shower experience for most buyers.
7. ShowerMaxx Premium Six Spray Settings Luxury Spa Detachable Handheld Shower Head
ShowerMaxx, Luxury Spa Series, 6 Spray Settings 4.5 inch...
SHOWERMAXX LUXURY SPA SERIES - TURN YOUR HOME INTO A LUXURIOUS SPA: Perfect for luxury hotels as...
MULTIPLE SETTINGS INCLUDING Power Spray - This ShowerMaxx shower head offers six adjustable spray...
HEAT RESISTANT SOLID ABS CONSTRUCTION HANDHELD SHOWER HEAD WITH LONG STAINLESS STEEL HOSE 60 inch...
PRE-INSTALLED FLOW RESTRICTOR WITH PRECISION ENGINEERED NOZZLES - Our ShowerMaxx showerhead is...
PEACE OF MIND LIFETIME WARRANTY – ShowerMaxx manufactures high quality premium shower heads. Each...
Last update on 2023-07-22 / Affiliate links / Images from Amazon Product Advertising API
This ShowerMaxx entry into the comfort market for bathing boasts six different settings, including a hard spray for fast, invigorating cleaning, three softer massage modes for slower, more luxurious showers and a trickle mode for unhurried lathering, shaving and shampooing. The manufacturer claims that its silicon nozzles more or less clean themselves with minimal help, and the five-foot, stainless-steel hose allows the shower head to swoop effortlessly to its destinations. The water-saving flow restrictor and an internal sand filter ensure efficient, grit-free showering. ShowerMaxx stands behind its product with a no-questions-asked, lifetime warranty.
The adjustable brass-ball-joint shower mount and the ease of removing the flow restrictor add to the attraction of this unit. The substantial feel of the shower head conveys the impression of long-term durability, and the solid warranty adds confidence to your purchase. Consumers who like old-fashioned designs with modern functionality will likely find much to like about this product.
8. Adoric High-Pressure Three-Setting Handheld Shower Head
Featuring power spray, pulsating massage and a water-saving pause mode, this unusually simple design from Adoric looks to the consumer market for uncomplicated devices that perform a few functions well. The five-foot, stainless-steel hose comes with the usual corrosion-resistant brass nut for hooking up to standard shower-arm threading with tool-free hand tightening. Anti-clog nozzles aim to minimize periodic fussing with cleaning agents for removing lime and mineral deposits, and a subtly ergonomic handle promises lighthearted showers that demand little physical effort. The manufacturer proclaims that its 12-month warranty covers either quick replacement or a full refund.
The simplistic design of the Adoric shower head will remind some skeptics of a kindergarten competition, but enthusiastic purchasers seem to consider this item an outstanding exhibition of functionality that does exactly what they want at reasonable cost. The generous warranty policy and obvious eagerness of the manufacturer to please customers likely will continue to drive buyers to try out this straightforward unit.
9. HotelSpa Seven-Setting AquaCare Series Spiral Handheld Shower Head With Low-Reach Bracket
HotelSpa 7-setting AquaCare Series Spiral Handheld Shower...
HIGH-PRESSURE LUXURY ALL-IN-ONE SHOWER CONVENIENCE SET Enjoy luxurious hand shower from top American...
CONVENIENT WATER-SAVING ON/OFF PAUSE SWITCH puts instant flow control at your fingertips. It also...
ANGLE-ADJUSTABLE OVERHEAD BRACKET provides drenching hands-free shower at desired angle. For...
BONUS LOW-REACH GO-ANYWHERE WALL BRACKET provides up-close hands-free use of hand shower and its...
TOOL-FREE CONNECTION takes minutes, no plumber needed. Hand-tightens to any standard overhead shower...
Last update on 2023-07-22 / Affiliate links / Images from Amazon Product Advertising API
This middle-market HotelSpa product stands out from a host of competing concepts with its combination of an extra low-reach bracket and an unusually long, six-foot stainless-steel hose for down-low goodness. An artistic spiral design accompanies seven possible settings that run the gamut from a body-cleansing spray to a fine mist that invites the warmth of springtime into your shower. A quick pause switch awaits your daily shampooing, lathering or shaving episodes. Fast, tool-free installation on any standard shower arm is a given, and the manufacturer bundles its product with a limited lifetime warranty for USA customers.
Bathtub aficionados will especially appreciate an enhanced ability to lounge in the tub while using the shower head for a good shampooing. The additional low-reach bracket also serves well for children or height-challenged individuals, and the quick clicky switch seems an interesting convenience. Finally, the limited lifetime warranty does add comfort to any buying decision.
10. Moen Magnetix Six-Function Handheld Shower Head With Eco-Performance
Sale
Moen Chrome Engage Magnetix 3.5-Inch Six-Function...
VERSATILE DESIGN: Chrome finish is highly reflective for a mirror-like look that works with any...
MAGNETIC BASE: The Magnetix docking system allows you to easily detach and use as a handheld shower...
CUSTOMIZE YOUR SHOWER: Multiple distinct shower settings give flexibility and variety
ADA COMPLIANT: Complies with Americans with Disabilities Act (ADA) specifications
BUILT TO LAST: Backed by Moen's Limited Lifetime Warranty
Last update on 2023-07-22 / Affiliate links / Images from Amazon Product Advertising API
Moen, a major global manufacturer of plumbing fixtures founded by the inventor who originally devised the single-faucet concept for seamlessly mixing hot and cold water, offers here a full-featured product with six useful spray settings and an unusually innovative magnetic docking station that permits quick snapping of the shower head into and out of its bracket. The two-gallons-per-minute default flow rate of the default installation will please environmentally conscious customers, but purchasers in need of greater water flow can easily remove the three-part flow restrictor with a small screwdriver or similar tool. A four-foot hose delivers adequate reach for many users, and little effort is required to install the product on standard shower arms. Buyers can choose between an attractive brushed-nickel finish or the classic chrome-coated option. A limited lifetime warranty from the manufacturer guarantees peace of mind.
While the unusually short hose in Moen's kit may bother a few individuals, other features stand out from the crowd. If desired, a longer hose can be purchased separately. The adjustable side bar is especially striking and useful for instantly customizing the default bracket height to a comfortable level. Moen's longtime reputation for quality, thoughtfully designed features and solid lifetime warranty all conspire to create a compelling product for discerning shoppers.
11. Aquarius Handheld Shower Head With Extra-Long Hose and Six Spray Settings
Aquarius Handheld Chrome Shower Head With Hose (Extra Long)...
DELUXE QUALITY - Aquarius handheld shower head is made of premium quality ABS Plastic Thermo...
LUXURIOUS RAINFALL - With its 4.9" inches width size of the head and 56 nozzles on the main...
VARIOUS SETTINGS MODE - Aquarius high pressure shower heads feature 6 spray settings mode that...
EASY TO INSTALL - This shower head with hose set comes with step-by-step instructions to setup your...
100% SATISFACTION GUARANTEED!. We are confident that you will love your Aquarius Handheld Shower...
Last update on 2023-07-22 / Affiliate links / Images from Amazon Product Advertising API
A curving, flattened design that thrusts its way into the top rated handheld market with six settings, including the popular body-washing spray and pulsating-massage options that dominate showering events for most bathers. A 67-inch hose provides a bit of extra reach for larger or taller individuals who appreciate the additional capability. A solid brass ball joint gives the mounting bracket durable angular flexibility, and installation is easy with standard threaded shower arms. The flow restrictor pops out without much trouble if desired, and an included sand filter keeps grit out of the water flow. The manufacturer's lifetime warranty for the shower head and a 30-day money-back guarantee also serve as strong selling points.
The expansive, 4.9-inch shower head of this upscale unit will delight more than a few consumers, and buyers can choose between oil-rubbed bronze, brushed nickel and bright chrome finishes to match any bathroom decor. The manufacturer's claim that the unit will perform well out of the box even with low-pressure water systems adds luster to this attractive bathing option.
12. Vida Alegría H5+ Handheld Shower Head With Five Spray Settings
Last update on 2023-07-22 / Affiliate links / Images from Amazon Product Advertising API
This entry from Vida Alegría boasts a stretchable stainless-steel hose that reaches up to seven feet and a 2.5-gallon-per-minute flow rate to maximize water efficiency. Silicone nozzles promise ease of cleaning and resistance to lime and mineral accumulation. Five settings flick into operation upon demand, including the usual popular body-washing modes, a rotating massage mode and a water-sparing drizzle suitable for shampoo sessions or restrictive marine applications. Users with low-pressure water systems can easily remove the flow restrictor to ensure that the unit's water flow meets their expectations. A solid brass ball joint pushes the idea of durable flexibility, and the three-year manufacturer's warranty unconditionally guarantees full satisfaction.
The reasonable range of effective spray settings on the Vida Alegría unit and its stretchable hose will make the majority of consumers happy. Strong customer support from the manufacturer, generous warranty coverage and enthusiastic users give impetus to this product as a leading contender for your shopping dollars.
13. Waterpik DSL-653 Twin Turbo Handheld Shower Head
Waterpik Twin Turbo Handheld Shower Head, DSL-653
Features 6 dual-source technology sprays that deliver a high-power experience unlike any other...
Includes OptiFLOW technology, which can improve water force by more efficiently channeling water...
Hand shower with 5-ft faux chrome hose and anti-clog nozzles
2 side-by-side turbo massage jets simultaneously deliver incredible massaging power
2.5 gallon per minute, hand shower head with hose installs in minutes
Last update on 2023-07-21 / Affiliate links / Images from Amazon Product Advertising API
Widely known for water-filtration systems and oral-hygiene products, Waterpik boldly leaps into the luxury shower market with a shower head that soothes its owner through overlapping, clog-resistant spray nozzles. A chrome-coated, five-foot hose invites wild experimentation with six settings that include mysterious misting, body-slamming cleansing, twin massaging and water-saving fogging. The unit's two-gallon-per-minute flow rate respects the sensibilities of environmentally conscious customers. A manufacturer's warranty exists but must be obtained by request through the customer-service line.
The unique design of this unusual entry will attract the attention of many adventurous souls. The manufacturer purports to supply a 30-percent increase in splashing power with its OptiFLOW technology, which proves to be a solid claim.
14. HealthyLifeStyle! Handheld Shower Head with Eight Spray Settings
Last update on 2023-07-22 / Affiliate links / Images from Amazon Product Advertising API
HealthyLifeStyle! provides another high-end entry worth contemplating in its multi-function handheld shower head with eight arguably distinct settings that include everything from a powerful massaging mode to a water-sipping mode that meets the limited requirements of white-water-short marine environments or unhurried shampooing. The lightweight, ergonomically shower head has a studded handle for gripping security and a spare set of nozzles for cost-efficient spraying. A chromed, stainless steel hose whips easily through the entire range of possible motions to deliver universal cleaning power. An aggressive ten-year warranty targets uncertain consumers with the promise of a secure return on their investment.
In a crowded market for the attention of consumers, this entry cannot be casually ignored. It undeniably deserves thoughtful consideration along with a host of competitive market entries for your bathing-equipment dollars.
Basic Difference Between a Handheld Shower Head and a Fixed Mount
Fixed mounts frequently suffer from a severely limited angle of attack or an inconvenient mounting height. Unusually tall or short people may find themselves crouching down uncomfortably or jumping up and down like a wet bunny to get every part of their bodies under the spray. Being able to casually wave around the shower head at the end of a strong, flexible hose solves this vexing problem. Of course, without going into too much detail, many parts of the body tend are hard to hit with a typical fixed mounted shower.
Blasting every part of your body from close range rather than from far away yields better control and faster, more satisfying cleaning. The shower experience changes from average to one that leaves you feeling considerably more refreshed at the end.
See Also: The 8 Best Massaging Shower Heads
Other Advantages of a Handheld Model
Apart from the fun and games you can have with suddenly spraying an unsuspecting loved one from inside the shower with a nice blast of warm water or even an icy blast of cold water, a handheld unit can easily be used to clean the shower itself. The five-foot hose typical of these units will reach far enough to give a good squirt to whatever area you're trying to scrub clean of accumulated crud from hundreds of showers by grimy people. Any good handheld shower head will have no trouble with pummeling all sides of an enclosed bathtub and shower installation with a hard spray to wash away leftover dust and gunk.
A handheld unit can be also used to more effectively wash off fuzzy pets and wriggling children who consider shampooing a chore.
More Considerations for Finding the Right Handheld Shower
Other than a hard, stern spraying mode that quickly washes away grime and additional settings such as a massaging option that provides a comfortable shower experience and a water-saving dribble option that preserves resources, the demands on a useful handheld unit are few. The following list provides some insight on what you should or might reasonably expect for your money.
An adequately long hose, preferably no less than five feet in length, that doesn't force you to be a gymnast to get all your body parts clean.
A decent warranty, preferably spanning at least a year, that shows that the manufacturer is confident enough about its product to stand behind it.
A solid brass ball joint for the shower mount that holds up under ordinary usage.
An easily extracted flow limiter that defeats unreasonable municipal restrictions on water consumption and yields flexibility in making the most of low-pressure water systems.
A reasonable angular range to cover all body parts even from the shower head's fixed mount.
A grit filter for keeping well water or another dirty source from bombarding your skin or eyes with stinging rebukes.
Compatibility with near-universal standards for shower arms.
Final Thoughts
A fair number of people are quite satisfied with their old-fashioned, fixed-mount shower rigs. They may be totally comfortable with the daily ritual of quietly twisting this way and that to wash themselves, or their shower heads may simply be perfectly positioned with an adequate range of motion. There's absolutely nothing wrong with sticking to a tried-and-true solution.
Still, the clear advantages of a handheld unit continue to attract an ever-growing legion of aficionados. A large field of products with options aimed at every possible market niche means that if you choose to switch to a handheld shower head, the odds are excellent that you'll quickly find a product that exactly fits your needs.