Hey! This site is reader-supported and we earn commissions if you purchase products from retailers after clicking on a link from our site.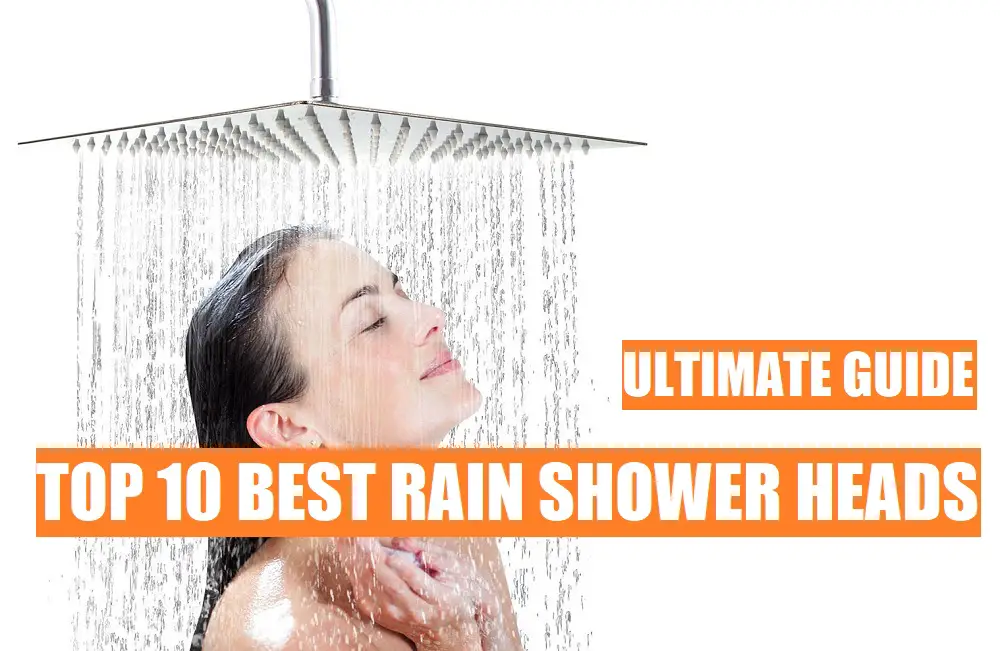 The bathroom in a home gets more use than any other except the kitchen, and much of its favoritism probably comes from its ability to provide a warm, relaxing and invigorating shower. Whether for a quick pick-me-up before dashing off to work or a long, relaxing soak in a rain-like downpour later, a shower can work miracles on the body.
Anyone who has experienced a rain shower on a summer day, and almost everyone has, knows how delightful the raindrops can feel as they land on an upturned face. A home shower that features a rain-style showerhead can recreate the experience whenever anyone wants it. The manufacturers of rain showerheads make them provide full body coverage, water-saving measures, massage-like effects and easy installation. A fashionable fixture in a shower enclosure contributes to the elegance and the functionality of a bathroom.
1. HotelSpa Giant 10″ Stainless Steel Rainfall Square Showerhead
HotelSpa 1682 Showerhead with 11" Arm, Stainless Steel, 10"
RAIN SHOWER HEAD: 10" Stainless Steel Square Rainfall Shower Head | Heavy-duty 304 Stainless Steel...
EXTENSION ARM: Reliable Heavy-duty 100% Solid Brass Construction | Height and Angle Adjustable |...
FEATURES: Stainless steel construction | Ultra Thin profile | 10 inch by 10 inch Square Showerhead...
INSTALLATION: Tools-free Installation. Connects in minutes to any standard overhead shower arm, no...
WARRANTY: Limited Lifetime Warranty - Once you purchase any of our products, you will enjoy...
Last update on 2023-07-20 / Affiliate links / Images from Amazon Product Advertising API
This model provides an abundance of rain-like water with 100 nozzles that ensure a superior flow and coverage. A slimline square design brings a contemporary flair to any shower enclosure while creating a fantastic water-filled environment. The relaxation of muscles and the release of tension that result from a rain showerhead that adjusts for height and angle elevates a bath to a delightful experience.
With brass construction in the head and extension arm, this model brings high quality to a fixture that needs to perform flawlessly every time. The extension arm has brass ball joints that allow 180-degree rotation to direct the water to a preferred location. This fixture's square face brings elegance to a shower enclosure, and its jets rub clean to remove any buildup easily.
2. LORDEAR Square Ultra Thin 12 Inch Adjustable Rain Shower Head
Lordear 16 Inch Rainfall Shower Head Solid Square Ultra Thin...
High Quality Rainfall Showerhead - the entire material for this shower head body is T304 Stainless...
16 inch adjustable Stainless steel polish finish, Ultra thin with only 2mm Eco-friendly and make...
The nozzle is made of silicone; which is much easier to remove the sediment
Please kindly note that because the water pressure in each family is different, it is normal and...
3 months hassle free for return and money back if any quality issue, limited lifetime warranty. For...
Last update on 2023-07-21 / Affiliate links / Images from Amazon Product Advertising API
The handsome design of this model features adjustability and full body coverage in a simulated rainfall experience. Its construction of #304 stainless steel and no plastic parts ensures excellent performance from its 196 silicone nozzles that create a private rain shower. With an installation that requires no tools, the ultra-thin fixture oxygenates the water flow with 30 percent air to increase water pressure.
This model's output resembles the softness of natural rainfall and saves water at the same time. An advanced design lets the showerhead rotate and adjust to the position that provides the most satisfactory distribution of water. This fixture carries a warranty that guarantees replacement of defective parts for the first three years after purchase and a lifetime warranty for product repairs.
3. NearMoon 12 Inch High Pressure Rain Shower Head
Sale
NearMoon Rain Shower Head, Ultra-Thin Design-Pressure...
🚿 LARGE, THIN WITH HIGh WATER FLOW – NearMoon Shower Head is super large with 12 by 12...
🚿 LEAK PROOF AND RUSTPROTECTION – Our Shower head is made of high quality solid 100%...
🚿 SELF-CLEANING SOFT SILICONE NOZZLES – No more to worry about the cleaning of your shower...
🚿 EASY INSTALL AND ADJUSTABLE –Working with all standard size shower arms. Easy...
🚿 PERFECT MATCH WITH ALL BATHROOMDECOR – The big surface mirror-like chrome finish makes...
Last update on 2023-07-21 / Affiliate links / Images from Amazon Product Advertising API
This model features the ability to produce a high- pressure output regardless of the pressure in the supply line and delivers an energizing effect to the skin. With consumption of only 2.5 GPM, it produces superior results. Its quality stainless steel body and a multilayer plating process that resists corrosion and oxidation keep the shower in sparkling-clean condition. The design features a soft rubber gasket that prevents leaks and guards against rust.
Self-cleaning silicone nozzles of food-grade quality help ensure a healthy environment in the shower enclosure and reduce maintenance time. The versatile fixture attaches easily to all standard shower arms without any tools. A swivel ball design in this model lets it rotate 360 degrees to a position that provides the most satisfying shower experience.
4. DreamSpa Ultra-Luxury 9″ Rainfall Shower Head
Dream Spa Ultra-Luxury 9" Rainfall Shower Head/Handheld...
Use luxurious rainfall showerhead for drenching rainfall shower, or pamper with new state-of-the-art...
High-fashion 9-inch Rainfall Showerhead : Extra Large 9-inch Face for shoulder-to-shoulder water...
High-fashion design , Premium All-Chrome finish
Luxury Multi-setting Hand Shower with Push-button Flow Control: Can be used as overhead or handheld...
Enjoy high-power rain, aeration massage (gentle mist) and luxurious waterfall (combination) settings...
Last update on 2023-07-21 / Affiliate links / Images from Amazon Product Advertising API
This versatile model features push-button control over the water flow to create a drenching and invigorating shower. The handheld fixture allows easy access to the flow control button that operates with thumb movement and uses no complicated dials. Its oversized showerhead also provides full body coverage for an exhilarating and refreshing bathing experience.
The superior design of this model features directional adjustments that its brass ball joint construction provides with a leak-free connection. The all-chrome finish presents a stylish profile with its fashionable oval-square design. With the capacity to deliver an aeration massage that resembles a powerful rain shower, the fixture can produce waterfall settings as well. This model conveniently connects to any standard arm for overhead use and requires no tools for installation.
5. WYJP 12 Inch Large Square Rain Showerhead
High Pressure Shower Head, 5 Setting Handheld Shower Heads...
☑️INSTALLS IN SECONDS: There is no need for Teflon tape or any tools, fits all standard 1/2"...
☑️LEAK PROOF AND RUST RESISTANCE: The Shower heads are made of top quality, solid stainless...
☑️LIGHTWEIGHT & DURABLE: Our showerhead is almost half the weight of competing brands. Yet ours...
☑️LUXURY SHOWER DESIGN: Extra large rainfall shower head, 12 by 12 inch, ultra-thin only 2 mm...
☑️WARRANTY: 2 YEAR WARRANTY - We are totally confident you will be impressed with our shower...
Last update on 2023-07-21 / Affiliate links / Images from Amazon Product Advertising API
This model recreates the joyful experience of standing in a warm, summer rainstorm within the comfort of a private shower enclosure. Its precise fittings allow it to fit all standard pipe threads without tools or tape, making it an excellent replacement fixture. The quality materials in this model resist leaks and rust with its soft rubber gasket. Its chrome finish makes the oversized showerhead an elegant addition to the decor in any bath, and its 144 silicone nozzles deliver an utterly satisfying bath.
The advanced technology in this fixture allows it to maintain high pressure regardless of the psi in the supply lines. With a flow rate of 2.5 GPM that reduces water consumption by 30 percent, the fixture uses advanced air energy to produce an invigorating shower.
6. JOYSTAR 8 Inch Stainless Steel Rain Shower Head
This model delights with its 75 nozzles and an oversized showerhead that delivers coverage for the whole body with a drenching rain that invigorates and relieves stress. With durable stainless steel, it avoids leaks and cracks that make plastic fixtures undesirable. A removable water flow restrictor can maintain a flow of 1.5 GPM when in use or 2.5 GPM for a fuller rainfall experience when not. Both settings support high pressure regardless of the psi in the supply lines.
With brass construction, this model uses ball joints that last without leaks while delivering a refreshing and invigorating spray. An excellent choice for replacing older models, this fixture requires no tools for installation. It carries a manufacturer's limited lifetime warranty against finish defects, leaks and drips.
7. SR SUN RISE Luxury 12 Inch Large Square Stainless Steel Shower Head
SR SUN RISE 12 Inch Rain Shower Head Brushed Nickel 304...
Install with confidence, easy wall / ceiling mount installation without tools, female thread of...
Air energy technology offer consistent powerful rain shower even under low water pressure, offer you...
12 inch high quality 304 stainless steel large showerhead, Synthesized with all metal welding...
10-layer brushed nickel plated finish offers a sleek look, ensuring corrosion resistance and...
5 Years Warranty.
Last update on 2023-07-28 / Affiliate links / Images from Amazon Product Advertising API
This model features a smooth, highly polished showerhead that produces an invigorating spray without wasting water. Its 10 layers of chrome plate create a durable finish that resists corrosion. With a standard thread, it connects easily to existing plumbing. The wall mount requires no tools, and a five-year warranty ensures its long and satisfying use.
By incorporating air energy technology, this fixture gives a consistently powerful rain-like shower regardless of the psi in the supply lines. Its design features silicone gel nozzles that prevent the buildup of limescale and allows easy removal of minerals. The oversized showerhead with its 12-inch diameter delivers full body coverage with a soft touch like gentle summer rain. The technology in this model incorporates air injection to create excellent water pressure.
8. Gintenco High Pressure Rainfall Large 12 Inch Square Rain Shower Head
This model delivers a fantastic shower experience that invigorates and satisfies. With a 12-inch showerhead of stainless steel, its gleaming multi-layer plating makes it a stylish way to create an abundance of rain-like immersion in water. A feature that delivers convenience efficiently, the head that can turn 360 degrees puts water where it can deliver the greatest effect.
The advanced technology in this model lets it mix water with air to create a stream that enriches the shower experience with oxygen and negative ions. Very helpful for relieving stress and encouraging relaxation, this model puts its 144 silicone nozzles to work. A swivel ball connector adjusts to any angle that lets the water provide a full body coverage with high pressure regardless of the psi in the supply lines.
9. HealthyLifeStyle! Rainfall High Pressure 9.5? with Adjustable Extension Arm
Last update on 2023-07-21 / Affiliate links / Images from Amazon Product Advertising API
This model features an amazing 109 self-cleaning jets that deliver a full body showering experience with complete coverage that misses nothing. The innovative design of the extension arm enhances the powerful performance that makes this fixture an excellent choice as a replacement. Installation requires no tools, and it attaches to the existing plumbing with finger pressure that secures the connection.
The technology of this model includes a removable water regulator that can ensure an even flow in a rain-like shower. The elegant fixture enhances the beauty of any shower enclosure that can deliver superior performance with a water supply that has high or low pressure. This luxury model can rotate, turn and swivel its huge 9.5-inch face to provide a totally satisfying shower experience.
10. Waterpik CF-201 RainFall+ FlexNeck Rain Shower Head
Waterpik CF-201 FlexNeck Rain Shower Head, 2.5 GPM, White
FLEXIBLE SHOWER HEAD: 12 inch flexible shower neck allows you to position the shower head wherever...
ADJUSTABLE HEIGHT: Accommodate any height, short or tall -- low or high shower pipes
RAIN SHOWER HEAD: Large, 7.5 inch wide rain shower head in chrome provides a relaxing spa-like...
DIY EASY INSTALLATION: This shower head installs in minutes on any standard shower arm, no plumber...
AFFORDABLE PERFORMANCE: Waterpik shower heads provide high-style, powerful performance and are an...
Last update on 2023-07-21 / Affiliate links / Images from Amazon Product Advertising API
This model offers innovative engineering in a contemporary styling that features a 12-inch showerhead with a flexible neck that enhances delivery of water to preferred locations. The adjustability of the height and horizontal position of this model, along with its oversized shower face, enhances its functionality.
The capacity of this fixture to deliver a powerful force from dual heads ensures a satisfying shower experience with rain-like comfort. A unique feature lets it produce a drenching rain that relaxes and rejuvenates as well as a quick rinse with a power spray. The versatility of this model makes it a favorite replacement for older showerheads. The flow pattern provides a steady stream that warms the body with an abundance of water and rejuvenates tired muscles.
Why would I want a rainfall style shower head?
One of the best reasons to want a rainfall style showerhead is its access to nostalgia. It helps you soak in solitary splendor as you remember the sunny days of your youth when you played in the rain. As an adult, you can recreate the experience whenever you like. However, there are many other compelling reasons as well. Most models feature oversized faces that produce an enormous amount of water that encompasses you and transports you a place of relaxation and total enjoyment. They provide full body coverage with the ability to rinse away your tensions as well as your soapy lather. Many have handheld units that let you direct the spray anywhere you like for a shampoo, a pet's bath or a novelty for a child. The advanced technology in the rainfall showerheads on the market today gives you water-saving measures without depriving you of the intense and powerful spray that you expect from a shower.
Do I need a ceiling mount to use a rain shower head?
The versatile styling of rainfall showers gives you the option to choose a wall mount instead of an overhead installation. Many models feature the ease of replacing an existing fixture with one that requires only tightening by hand to produce a leak-free unit. While most showerheads that delivered a rainfall effect were overhead at one time, the difficulty and expense of installing a new water line to supply them made the process an unlikely choice. Manufacturers learned from experience that people wanted to have wall mounted fixtures, and they offer many sizes and shapes that let you choose one that suits your preferences as well as your bathroom decor. The extension arms on the fixtures allow the showerhead to take a position directly overhead and drop water straight downward to provide a full body shower experience. The aesthetic value of the wall mount may not equal that of an overhead installation, but it delivers the same amount of water with the same effect without requiring plumbing modifications.
Does a rain model use more water than a standard shower head?
The amount of water that a "standard" showerhead uses changed dramatically in 1992 when regulations reduced the allowable GPM from 5.5 to 2.5. The comparison between standard and rainfall models currently involves the use of 2.5 or 1.5 GPM. While there are considerable differences between the size, height and weight of the two styles, water use is not one of them. A rain showerhead has a much larger surface area than a traditional one, making it appear to use more water, but the impression is incorrect. Models that comply with the EPA's WaterSense guidelines provide comparable results with 2.0 GPM or less. Advances in plumbing technology support different methods of producing a robust shower through low-flow showerheads. An aerating fixture mixes air with water to keep the psi high while conserving water, and a laminar-flow produces individual steams. A rain shower head delivers the water in a method that differs from the way that traditional fixtures do, but it does not use more of it.
Evaluating the Options
Many aspects of rainfall showerheads offer homeowners something to consider in choosing a replacement for an existing fixture. The considerations may influence a purchasing decision for a new home that features them as an upgrade in a bath. The invigorating effect that they offer to sleepy heads who need a kick start in the morning makes them useful as well as desirable. Their restorative ability to soothe tired muscles and relieve tension at the end of the day makes the decision to install them almost irresistible. Designs that create aesthetically appealing effects contribute to the ambiance of a bath, and they enhance the appearance of almost any shower stall. Water conservation technology limits use to 2.5 GPM or less, reducing the cost of utilities that provide the water and the energy to heat it. There is almost no reason not to get a new rain showerhead except one that may not occur until the first bath. The handsome and attractive fixtures need more space than traditional ones, and they spread water over a wider area that may exceed the size of a small tub or enclosure.
Making Bathing a Joy
A rain shower head can do more than provide an exhilarating, invigorating and comforting bath while conserving water and creating bathing conveniences. As an inexpensive and uncomplicated step toward upgrading a bathroom, it can transform a shower enclosure. The appearance of a handsomely designed fixture with a gleaming finish and up to a hundred or more water jets breathes new life into a space that may have provided service for many years. The delightful feeling of falling rain relaxes the body and gently lifts spirits while restoring energy, a lot of accomplishment for a simple plumbing fixture whose purpose is to make bathing an enjoyable experience.