Hey! This site is reader-supported and we earn commissions if you purchase products from retailers after clicking on a link from our site.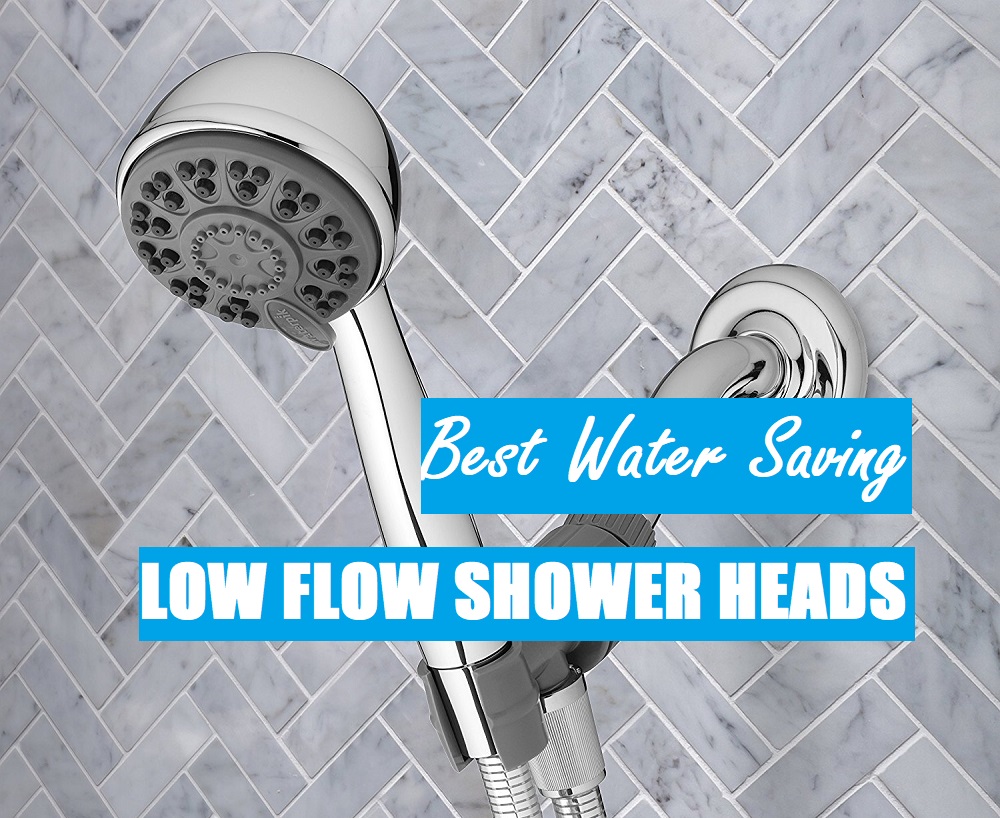 Almost nothing can match the luxurious and unadulterated pleasure of a warm shower, but the showerhead can make a huge difference in water consumption as well as enjoyment. Misconceptions may create doubt about the ability of low-flow models to produce the effect that most people expect.
Traditional showerheads use nearly twice as many gallons per minute (GPM) as the low-flow designs. The greatest use of hot water in most homes results from showering, creating an expense for water and the energy to heat it that homeowners can reduce with modern equipment. Engineering offers a way to enjoy a warm bath with a fixture that delivers hot water with pressure and efficiency.
1. Niagara Earth Massage 1.25GPM Low Flow Showerhead
This water efficient Niagra Earth model produces an abundance of water for an invigorating bath while improving the rate of flow in traditional low-flow showerheads. Its patented pressure compensating technology uses as much as 75 percent less water and prevents an inconsistent rate of flow regardless of water pressure. The ABS high-impact thermoplastic body has an adjustable 9-jet turbo massage that can deliver a needle-like spray or a powerful jet. A non-aerated stream of water produces a low loss of temperature and maximizes energy savings.
The beautiful fixture has a corrosion-resistant and self-cleaning finish of white or chrome plate, and it exceeds ANSI specifications for safe use. The graceful lines of a tulip-shaped fixture bring elegance to the shower enclosure. The manufacturer offers a 10-year guarantee without any expressed limitations.
2. High Sierra's All Metal WaterSense Certified 1.5 GPM High Efficiency Low Flow Showerhead
High Sierra's All Metal 1.5 GPM High Efficiency Low Flow...
Award-winning, patented nozzle delivers a strong, full-spray of large drops and will not clog
Push button control valve shuts the flow off to a trickle, while lathering, for even greater savings
SOLID METAL CONSTRUCTION with NEW and improved surface plating guaranteed to not corrode. Regardless...
Save 40% or more water and the energy to heat the water. WaterSense Certified
Built in the USA using domestic and imported parts. Built to last!
Last update on 2023-07-21 / Affiliate links / Images from Amazon Product Advertising API
This model from High Sierra features a patented non-clog nozzle that delivers a full spray with large drops in a luxurious expanse of water. A push button control valve makes it easy to reduce the flow to a trickle for as long as it takes to lather up. The reduced flow saves money on water and the electricity that it takes to heat it only to go down the drain.
The attractive feature of solid metal has a polished chrome finish, and it carries WaterSense Certification. The EPA-sponsored voluntary partnership program certifies that the showerhead uses a minimum of 20 percent less water than regular models while performing as well. Made in the US of high-quality materials, the fixture carries a two-year warranty for defective materials and workmanship.
3. Delta 52650-PK 2-Setting Showerhead
Sale
Delta Faucet Single-Spray Shower Head, Chrome 52650-PK
INTENSELY POWERFUL. Immerse yourself in the steady, intensely powerful full body spray with forceful...
2 CONVENIENT SPRAY OPTIONS. Shower head spray options include full body spray and pause
EASY INSTALLATION. Install in minutes onto a standard shower arm (sold separately)
STEADY WATER FLOW. The 2.5 GPM flow rate provides consistent, steady water flow
LIFETIME LIMITED WARRANTY: You can install with confidence, knowing this Delta shower head is backed...
Last update on 2023-07-21 / Affiliate links / Images from Amazon Product Advertising API
This Delta model creates an amazing amount of water from only 2.5 gallons per minute in an attractive nozzle that flairs in the European tradition. It delivers a brisk and invigorating force that makes showering a luxurious experience with economy and efficiency. The brass and chrome fixture carries the manufacturer's lifetime limited warranty on the finish and the faucet.
The fixture's clean lines and elegant flair bring the elegance that a shower stall needs. An exceptional build quality produces a heavy and solid unit that makes the fine spray feel like more than it delivers. An easily accessible shutoff valve can reduce the flow to provide time to lather up. Easy to install, the solidly constructed fixture disperses an amazing abundance of water and pressure.
4. Waterpik EcoFlow 4-Mode Hand Held Shower Head
Waterpik EcoFlow 4-Mode Hand Held Shower Head
Eco Flow water saving shower heads are engineered to conserve water while producing a powerful spray
Convenient hand held shower head with flexible 5-foot hose + bracket
Environment-friendly, 2.0 GPM flow rate saves water and money
4 spray modes: Full Body, Full Body + Massage, Pulsating Massage, Water-Saving Trickle
Installs in minutes, backed by a limited lifetime warranty,
Last update on 2023-07-21 / Affiliate links / Images from Amazon Product Advertising API
This dynamic model manufactured by Waterpik can deliver a pulsating massage alone or with a full body spray, a water-saving trickle or a traditional full body dousing. The advanced engineering for the shower head uses Eco Flow technology to produce an abundance of water with only 2.0 GPM flow rate. A hand-held 5-foot hose supports a shower head for convenience in directing the flow.
The fixture maintains a powerful flow of water regardless of any variations in water pressure. Easy to install, the fixture carries a limited lifetime warranty. The plastic unit has an attractive chrome finish that is rustproof and corrosion resistant. The efficient unit provides an appealing invitation to relax in a hot shower at the end of a long day or a quick refresher in the morning.
5. Delta 75155 1.5 GPM Water-Amplifying Showerhead
Delta Faucet Single-Spray Shower Head, Chrome 75155
SPRAY JETS. Four large spray jets precisely angle sprays to provide full-body coverage
EASY INSTALLATION. Install in minutes onto a standard shower arm (sold separately)
WATERSENSE LABELED. WaterSense labeled so you can enjoy a warm, drenching shower experience while...
CONSERVE WATER. The water-conserving 1.6 GPM shower head feels like a full-flow shower with the...
LIFETIME LIMITED WARRANTY: You can install with confidence, knowing this Delta shower head is backed...
Last update on 2023-07-21 / Affiliate links / Images from Amazon Product Advertising API
Patented technology gives this low flow showerhead a unique motion of water with spray holes that minerals in the water supply cannot clog. With only 1.5 gallons per minute, the fixture carries WaterSense certification from the EPA to ensure at least a 20 percent reduction in water use, and it exceeds that standard with a 36 percent water savings.
An appealing feature is the large droplets that retain their heat longer. The denseness of the abundant spray seems like one that comes from a full-flow shower head. The model's H20 Kinetic technology creates a water-amplifying effect that enhances the showering experience. With instructions that make installation easy, the fixture carries a lifetime warranty. It provides maximum enjoyment and relaxation with a feeling of pampering for a few minutes of showering.
6. New Resources Group Economy Super Spray Clean Water Saving Amazing Shower Head
Spray Clean Low Flow Water Saving Shower Head 1.5
High performance water Saving 1.5 gpm flow rate - EPA WaterSense Certified
Neoperl pressure compensating flow controller ensures a steady flow
Saves water, energy, and money, but also provides a high quality shower
Maintenance free rubber thermo jets + easy install, includes thread tape
Good for hard water areas
Last update on 2023-07-21 / Affiliate links / Images from Amazon Product Advertising API
The high-performance capability and design efficiency in this model help save water and the energy to heat it while providing a superior showering experience. It carries the WaterSense certification from EPA to ensure at least a 20 percent reduction in water use. The fixture uses rubber thermo jets that require no maintenance to produce a fixed spray pattern. With the robust appearance of a solid performer, the accessory can deliver an invigorating flow economically.
A pressure-compensating flow controller ensures a steady stream of water regardless of water pressure, and the screen washers with plastic fittings make it appropriate for use in hard water. Easy to follow instructions and an included roll of Teflon tape ensure an efficient installation without tools.
7. Qualihome Water Saving Shower head with Push Button Flow Control
Last update on 2023-07-21 / Affiliate links / Images from Amazon Product Advertising API
A low profile on this model provides only an inch for its face size, a feature that allows the fixture to attract little attention while delivering a king-sized amount of water. At 40 psi of water pressure, it uses just 1.5 gallons per minute or 1.8 with 80 pounds of pressure. A standard 1/2-inch female thread makes installation a breeze with no need for adapters on the chrome plated brass fixture. Clean and simple lines of the small nozzle bring a touch of elegance to the shower head.
A handy push button controls the water flow and shuts off the water down to a trickle for safety. The brass construction harnesses great pressure with the low flow of water to create an invigorating and relaxing shower economically.
8. AM Conservation Group N2150 Luxury Spa All Metal High Efficiency Showerhead
Sale
Niagara Conservation N2150 Luxury Spa All Metal 1.5 GPM...
1. 5 GALLONS PER MINUTE - This water-saving shower head has a flow rate of 1. 5 gallons of water per...
IDEAL FOR COMMERCIAL SHOWERS - The Niagara Conservation showerhead works great for a variety of...
CONSISTENT FLOW - Unlike other shower heads, the Niagara's Conservation's patented flow compensator...
SLEEK CHROME FINISH - The low flow shower head has a sleek, chrome finish. It's durable, all-metal...
WATERSENSE CERTIFIED - The Luxury Spa non-handheld shower head produces a luxurious shower with an...
Last update on 2023-07-21 / Affiliate links / Images from Amazon Product Advertising API
A chrome ball joint and all metal construction make this model capable of enduring commercial as well as residential applications. Advanced technology in the patented pressure compensation feature allows this fixture to produce a luxurious amount of hot water with only 1.5 gallons per minute regardless of water pressure. The WaterSense certification by EPA ensures that it produces results with at least a 20 percent reduction in water use.
Its one spray function disburses an abundance of hot water at great force to creates a luxurious and invigorating atmosphere. The attractive feature delivers cost savings from reduced water consumption as well as lower energy expense that results from heating a smaller quantity. The simple lines of a bell-shaped fixture bring are a refreshing feature to this low flow model.
What is a low flow showerhead?
Efforts to conserve the water in municipal supply systems, as well as other sources, led to the development of low flow showerheads that use less than 2.5 GPM. Aerating models infuse air into the water to create a misty spray, and laminar-flow individual streams. Fixtures that use aeration design produce a greater volume of steam and moisture. Showering accounts for almost 17 percent of water use in homes, and it totals about 40 gallons a day for the average American family.
Nationally, showers use as much as 1.2 trillion gallons of water that creates a potential waste of a precious resource. Fixtures that have a manufacture date of 1992 or earlier use 5 gallons per minute or more, creating a waste of energy to heat an excessive amount of water. Shower heads that carry the EPA WaterSense certification must use no more than 2.0 GPM and produce a 20 percent reduction in water consumption. A retrofit with a technologically advanced showerhead can save money on water and energy.
Why would I want a lower GPM than a standard showerhead?
The motivation to curtail water consumption with a showerhead that uses less than 2.5 GPM may occur from a desire to protect the planet through a responsible attitude toward conservation. On a personal level that affects your budget and your disposable income. You may find the impetus by saving money on your water meter. You can slow the rate of energy consumption as well.
The opportunity to enjoy an economical, invigorating shower in the morning or a relaxing one after a hard day at work can help you decide to stop wasting water. Once you know that you have a choice to use water responsibly, it may become hard to ignore it when you see excessive amounts of water going to waste. Your shower drain can dispose of the volume that a low flow model produces where it cannot handle the excess amount that the older shower heads produce. A desire to avoid standing in water up to your ankles may encourage you to choose a lower GPM model.
Does a low flow model save water?
A practical measurement in your shower at home can confirm the amount of water that your fixture uses. The test can reveal the amount of water pressure in your supply lines as well. Higher pressure can push more water through a low flow shower head than lower pressure, just as it does in older models as well. Federal regulations establish requirements that prevent flow rates from exceeding more than 2.5 GPM when water pressure equals 80 psi.
The regulations also specify a rate of 2.2 GPM for a pressure level of 60 psi. The low flow designs can produce water savings that range from 25 to 60 percent. The measurement test has three steps that require only a few minutes. Put a gallon bucket under the shower head and turn on the water in the usual way. If it fills in less than 20 seconds, the flow rate is too great to meet recommended standards.
Taking a Fresh Look
The facts about water consumption in the home can illuminate the use of quantities that may seem surprising. The Shower Manager cites that it can take from 25 to 75 gallons of water for a shower, depending on the rate of flow and the amount of time bathing. The typical shower takes 10 minutes and needs 50 gallons. Studies reveal that showers do use more water than tub baths that usually require 30 to 50 gallons. Statistics from the Australia New Zealand Therapeutic Products Agency (ANZTPA) indicate that a higher percentage of household water use goes to showering there than data in the U.S. supports. Australian households use from 20 to 30 percent of water for showering, and ANZTPA emphasizes the need to protect the environment with water conservation. The Agency recommends low flow shower heads that include a timer to guard against the extra use of water. The Australian authorities take note of the standard practice of running the water while it heats up and the ability of low flow fixtures to prevent the waste that occurs.
Taking Responsibility
The decision to conserve water and protect the environment requires a commitment to curtail waste and institute best practices. Low flow showerheads can make a significant difference in preserving a valuable resource that is essential for life. The transition to a new showerhead can reduce the cost of water and energy that help extend the reach of the household budget, and it contributes to the welfare of the planet. New models cost a surprisingly small amount of money, and installation takes only a short time. The low flow models may enhance showering with a satisfying abundance of economical water.