<!–googleoff: index–>Hey! This site is reader-supported and we earn commissions if you purchase products from retailers after clicking on a link from our site.<!–googleon: index–>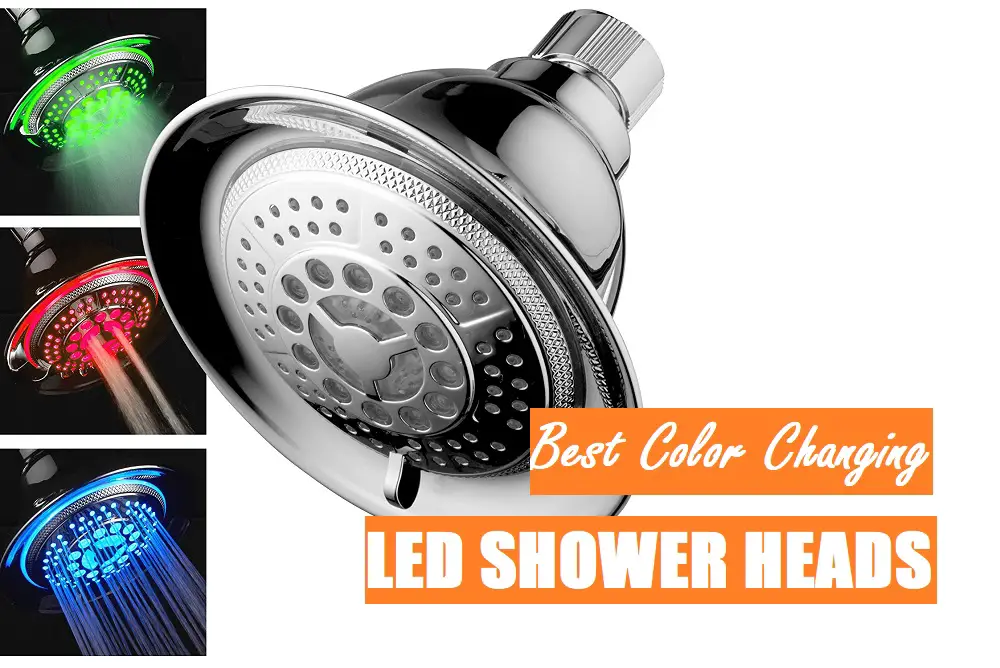 Color changing shower heads have LED lights that illuminate the streams of water as they fall. There are several different types. Some cycle through a rainbow of colors; others change color to indicate the temperature of the water. They come in a variety of different styles, including fixed-mount, handheld, and double/combination, and generally offer the same flexibility in water flow style as traditional shower heads. Color changing shower heads are easy to install onto your existing shower arm and create a unique flair in your bathroom. Read on to discover the most popular color changing shower heads today and learn more about this technology and find the perfect fixture for your shower space.
1. PISSON Color Changing Handheld Shower Head
This color changing showerhead features seven different colors that change automatically when water flows through the shower head. Ion LED lights are bright and true to color, long-lasting, and add a cheerful atmosphere to your shower. Easily to install and requiring no additional tools, the PISSON Color Changing Shower Head Handheld is perfect for those who'd like to add a little jazz to their showering experience without any hassle.
The handheld is perfect for people who require extra mobility, or who simply like more freedom and flexibility with the water stream. Three different water settings are available for a unique experience every time you shower.
2. DreamSpa All Chrome Water Temperature Controlled Color Changing 5-Setting LED Shower Head
This chrome shower head from DreamSpa is stylish before and after it's been turned on. The LED lights are fully powered by the flow of running water so you never need to purchase or replace batteries, and the LED color is responsive to the water temperature. The water glows blue at temperatures under 95 degrees Fahrenheit, green at temperatures from 95 to 108 degrees Fahrenheit and red at temperatures from 109 to 122 degrees Fahrenheit. It flashes red at temperatures above 122 degrees Fahrenheit, indicating too-hot water.
Five different shower settings include Pulsating Massage, Hydro-Mist, Power Rain, Economy Rain, and Water-Saving Pause. The extra-large face is 5.25″ in diameter, providing a wide stream of water for a luxurious experience. This shower head easily connects to any standard shower arm, requiring no additional tools, so you can get to enjoying your color-changing LED shower head right away.
3. AquaDance High-Pressure 5-Setting 7-Color LED Shower Head
This ultra-modern, ultra-stylish design will look great in any bathroom. Five water flow settings include Rain, Massage, two Rain and Massage combos, and a water-saving economy feature. Seven colors cycle through, providing a new experience every few seconds, and the long-lasting LED lights will last for over 10,000 hours, or more than 10 years of daily showers.
The rub-clean jets are easily cleanable, preventing lime buildup in order to keep the AquaDance High Pressure Shower Head functioning always functioning like new. It installs easily without any additional tools and fits onto any standard shower arm.
4. Luminex by PowerSpa 7-Color 24-Setting LED Shower Head Combo
LED lights flow from one color to another, cycling through seven colors every few seconds and are powered by the running water flow, so you'll never need batteries. This double shower head features an oversize 4″ head and 48 nozzles for a wide, dispersed water flow over a large area. Four settings include Rain, Massage, Rain/Massage Combo, and a water-saving pause function.
A combo attached and handheld shower head provide the utmost in flexibility for your showering experience, can be used together or separately, and both the handheld and attached shower heads can be adjusted to the perfect angle. The Air Jet design provides maximum efficiency of water jets and heightens your experience.
5. 7TECH LED Shower Head 9.3″ Water Heater 7 Colors Changing No Battery Needed Bathroom Use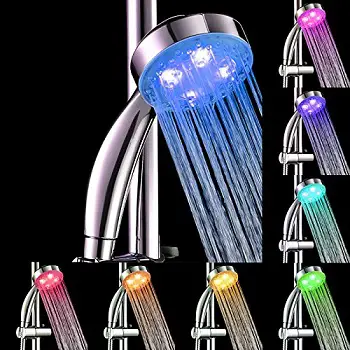 This LED Shower head from 7TECH cycles through seven different colors automatically. The LEDs are powered by the stream of water, making this shower head a battery-free shower head for forever. This LED shower head is designed to be low-flow, making it ideal for those looking to conserve water without sacrificing experience.
This hand held shower head is perfect for those who like the maximum control over the direction of their shower flow. Owners of this model will also enjoy a no questions asked 30 day money back guarantee.
6. YUUVE 3 Color Changing Temperature Controlled LED Shower Head Handheld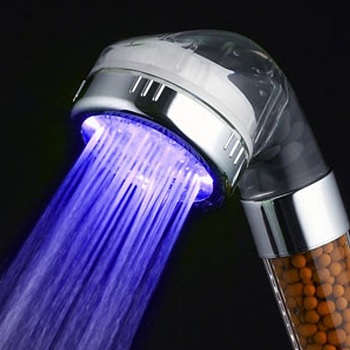 This water-saving temperature-controlled LED shower head is the perfect way to add some excitement to your daily shower. Steady water flow decreases water use up to 35% and color-changing water flow is guided by the water temperature. Green light indicates water under 85 degrees Fahrenheit; 85 to 105 degrees Fahrenheit glows blue; and red light appears when the water temperature goes over 105 degrees Fahrenheit.
The handheld design makes it easy to direct the flow of water exactly where you want it. A mineral filter system uses negative ions to help your skin absorb nutrients better, providing benefits long after you leave your shower.
What is a Color Changing Shower Head?
Color changing shower heads are shower heads with integrated LED lights. Depending on the model, it may change color to indicate the temperature of the water, or it may cycle through a number of colors automatically. This is a perfect way to add some excitement to your shower, and making your bathroom a unique experience. Many color changing shower heads also provide a luxury shower experience, with a number of different choices for water stream, pressure, and flow.
You can also find low-flow and water-saving features on color changing shower heads, meaning that you don't need to compromise eco-friendliness with a unique experience. A color changing shower head might be the exact thing to help you wake up in the morning with a fun lighting experience.
Do All Models Change Color with the Temperature?
No! Some models do, and this can be a fantastic way of keeping track of your water temperature. Washing with cooler water can have surprising benefits for your skin and hair. Color-dyed hair should always be washed in the coldest water possible, and hot water can dry out your skin. Using a temperature-controlled shower head can help you make sure that your water isn't getting too hot.
If you're not trying to select a shower head that keeps track of the temperature, you might prefer a shower head that cycles through a series of colors. An automatic, color changing shower head can provide a fun experience for waking up or a relaxing experience before bed. Automatic color changing shower heads generally have a wider color spectrum than those that change with the temperature, often cycling through all seven colors of the rainbow. Generally, automatic color changing shower heads blend from one color to the next every few seconds for a totally smooth experience.
Do I Need Batteries?
No. Generally, color changing shower heads are hydro-powered, which means that the water flowing through the shower head powers the LED. This is ideal because it means that you never need to buy and replace batteries. The LED lights are bright and long-lasting; depending on the model, you can generally expect ten years or more without bulbs dimming or burning out. Secondly, it means that you never need to remember to turn on or shut off the lights, as it happens automatically.
What are the Pros and Cons of a Color Changing Shower Head?
Installing one of these fun LED shower accessories is an quick and easy way to add some unique character and flair to your shower. There are many benefits, but a color changing shower head isn't right for everyone. The pros include an extra dimension of experience for your shower, and a fun change from normal shower heads. They can also help you keep track of your water temperature if you're trying to protect dyed hair. They're generally very easy to install and require no additional tools.
The biggest con of installing a color changing shower head is the commitment to a color changing shower! While they are easy to install and uninstall if you change your mind, the fact that the LEDs are generally hydro-powered means that there's no way to turn the LED effects off while you're showering. This is a pro for some, but may be a con for others. However, since it is easy enough to switch the shower heads out, it is generally not a huge commitment.
Final Thoughts
Overall, a color changing upgrade is a great way to add some jazz to your bathroom. It can help you to wake up in the morning and get you ready for the day by gently cycling through a range of rainbow shades, or make it easy to track water temperature. Many models offer a range of water flow options so you don't need to compromise on the physical experience. Some are also available with eco-friendly low-flow options or as a handy handheld. If you're looking for a way to add some energy and character to your bathroom, a color changing shower head might be the right way to go.