Hey! This site is reader-supported and we earn commissions if you purchase products from retailers after clicking on a link from our site.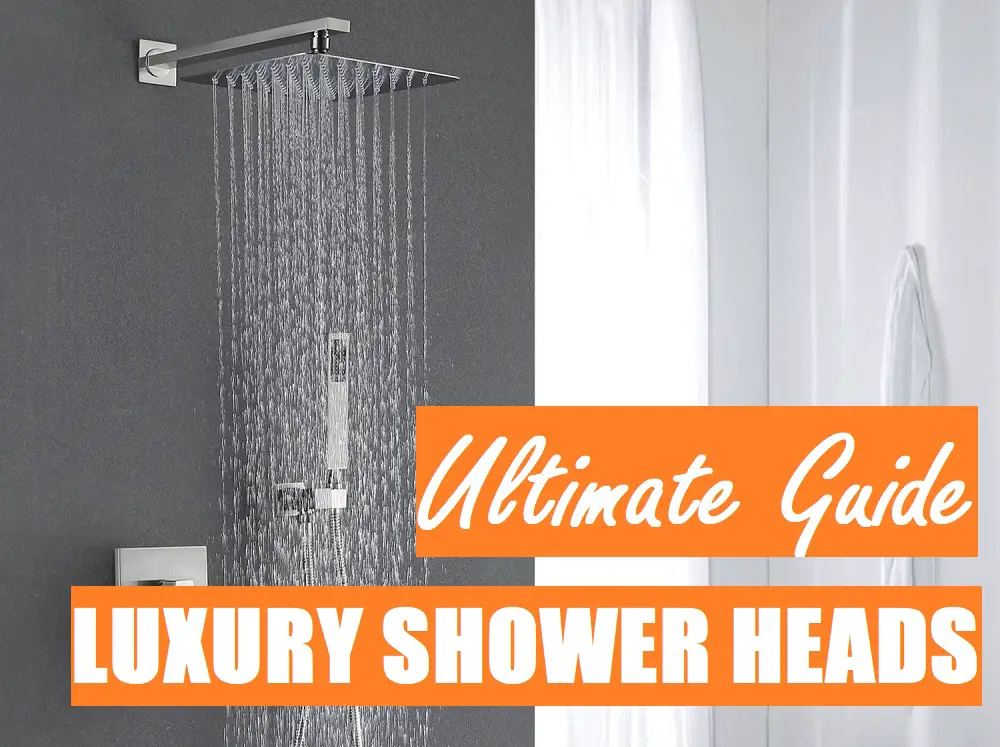 Bath time should always be a soothing and relaxing getaway – like a daily mini vacation. As such, you will need to create a relaxing shower room. To do this, you need to choose the right decor starting with a shower head type that possess the elements of luxury – elegance and quality. While you can install rain or handheld shower systems, you should know that the two-function types are more stylish and convenient. You want to take a shower that will leave you relaxed both before and after a long day. You will also love an aesthetic finish that transforms your bathroom into a wonderland.
This article summarizes six of the best luxury shower heads that we could find with respect to their style, functionality, convenience, usability, and performance. If you are looking to add style in your bathroom, we have created a short list of other sumptuous items worth considering.
1. Esnbia Luxury Rain Shower Systems Wall Mounted Shower Combo Set
Last update on 2023-07-28 / Affiliate links / Images from Amazon Product Advertising API
What other amazing way to add glamour into your bathroom than to use this brass and stainless steel luxury shower system. It comes with a pressure balance valve that helps regulate the flow rate such that no leaks are experienced even under high pressure. It is designed as a two-function shower: fixed shower head and a handheld shower head combo. This rain shower head will allow a flow rate of 2.5 GPM while the hand-held shower has a 2.0 GPM.
Being eco-friendly, this shower system will help you save up to 30 percent of your normal showering water. The rain shower head also comes with adjustable ball joint that enhances its flexibility. With the ball joint, you can change the shower head's angle depending on where you want the water to flow. The handheld shower on the other hand comes with a removable flow restrictor for optimal performance under all pressure levels.
The nickel and stainless steel used to make the shower head enhance its durability and quality. The brass material gives your shower a reflective property that is complemented by a cool metallic appeal that brightens the space.
2. KunMai Bathroom Luxury Black Ceiling Rain Shower
KunMai has created a premium two-function shower that features a rain shower head and a handheld shower. This works for anyone because it enables you to take a shower using the function you find most suitable. The shower head's 60-inch hose is made of stainless steel to enhance its longevity and quality.
You can use the square ceiling rain shower head to create a space for a refreshing bath every time. It is designed with a solid black varnish that renders it resistant to corrosion. With the valve included, you can easily regulate the water pressure to low or high. The flow rate ranges between 2.0 GPM and 2.5 GPM, giving the shower a reliable performance each time.
3. Blue Ocean Stainless Steel Shower Panel with Rainfall Shower Head
Blue Ocean 64.5" Stainless Steel SPS8879 Thermostatic...
Material: Stainless Steel with Brushed Finish
Size: 64.5"H x 8.75"W (164 x 22)
Integrated with Thermostatic Valve
Rainfall Showerhead, Waterfall Showerhead, Handheld Showerhead, and 6 Body Nozzles
All Functions Can Work Simultaneously
Last update on 2023-07-28 / Affiliate links / Images from Amazon Product Advertising API
This 64.5-inch height by 8.75-inch width shower panel is constructed with luxury and mind and with the quality of ISO-9001 standards. To enhance durability and achieve premium value, the shower head is made of stainless steel with a brushed finish.
It features a thermostatic valve that makes the pressure regulation easy and effective. It comes with rain, waterfall, and handheld shower heads. It also features 6 body nozzles that are reliable and convenient for the user as they cover the whole body. If you want, you can turn on all the functions as they are designed to work simultaneously.
The shower head's chrome finish gives your bathroom a plush appeal that soothes you as you take a shower.
4. MYHB 16″ Ultra-thin Stainless Steel Luxury Durable Rain Showerhead
This brand's design incorporates numerous high quality features and a style that will make your bathroom the room you choose to relax in after a long day at work. It comes with a 16-inch rain style shower that is not only easy to install but also easy to use. After a long day or a tough workout session, you can hop into this shower and all your fatigue will be washed away.
The soft water feel emitted at both low and high pressure will massage your body. The flow rate is reliable because you can adjust the shower head to whichever angle you desire. This is made possible by a swivel ball that is made from solid brass material. The shower head also features a high chrome finish that gives your bathroom space an irresistible appeal.
For durability and premium value, the rain shower head is made from stainless steel.
5. Artbath 12 inch Large Rainfall Shower Head Square Showerhead Combo
Artbath is designed to elegantly decorate your bathroom space to give you that modern feel with the ulta-thin top and bottom mirrors. This luxury rain shower head comes with a 12-inch surface that provides a full body coverage as you take a bath.
You can easily connect it to any shower arm, since no tools are needed. It also comes in a chrome finish that enhances the beauty of your bathroom. It has a swivel brass ball joint that you can use to adjust the direction of water flow according to your desires. The shower heads are available in 10 to 12 inch diameter options and 120 spray nozzles for a more comfortable use.
It comes with a high quality arm, self-cleaning nozzles, and a solid brass connector.
6. SR SUN RISE 12-inch Luxury Round Rainfall Shower Head
Last update on 2023-07-28 / Affiliate links / Images from Amazon Product Advertising API
SR SUN RISE has introduced in the market a 12-inch rain shower head that features an advanced air injection technology for higher water pressure. This technology not only saves water but also ensures a flow consistency.
To enhance its longevity and quality, this luxury shower head is made of stainless steel with a chrome finish. The nozzles are made of premium silicone that is heat-resistant for protection against aging and clogging.
The shower head is ultrathin for convenient water pressure levels. It also has a swivel ball joint that allows you to adjust the water direction as needed. The shower head is also fitted with a stainless steel filter that works excellently in preventing the passage of impurities.
What else can I add to my shower space to make it more luxurious?
The luxurious rain shower heads are appealing but some people would still want more before they are convinced of their bathrooms' plush atmosphere. If you want to create an even more luxurious bathroom, we got you covered. Below are other ways to add elegance in a bathroom.
Adding marble tiles
Marble tiles are available in different styles that you can choose from, and they are on our list of the most sophisticated floor materials that you could use to make your bathroom elegant. To add an eternal appeal in your resident, use this floor decor. These tiles add a natural detail that makes a sassy statement, which defines your exquisite taste.
Claw-foot tub
Claw-foot tub are an excellent choice in creating a stylish bathroom for yourself. It forms a luxurious centerpiece as an antique decorative item.
Color to introduce a bling in the space
White is an expensive color and is used on luxurious bathrooms to represent their elegance. Make a point of choosing all white decors and shower fittings for lighting. An all-white decor also has a great lighting effect.
Door mat

Choose a unique doormat with a light color that adds extraordinary beauty to your bathroom.
Things to consider when buying a luxury shower head
Brand

Luxury goes with premium quality, hence the need to consider the brand you are buying. Different manufacturers sell varying styles, designs, and standards when it comes to shower heads. You, therefore, need to take time when conducting your market research to identify the best brands based on product quality and customer reviews.
Compatibility
Most models are easy to install, implying that you can DIY or seek professional services. Whichever choice you make, you should first check whether the shower head you are about to purchase is compatible with your shower plumbing system. This will help you determine whether you also need a new shower arm or a completely new shower plumbing system.
Features
Luxury shower heads come in a variety of features that you should assess before deciding which shower head is suitable for you. Some individuals want a luxury shower head that has premium features and multiple settings. This affects the performance, durability, and effectiveness of the shower. The best shower heads have elegant features that work efficiently under low or high pressure. Consider at least two-functions for convenience during your relaxing shower time.
Additionally, you should find a fixture with a valve for pressure control or a restrictor that controls the flow rate. Many luxury shower heads also feature the rain style, since it allows full body coverage. Handhelds, on the other hand, are preferred for their convenience in cleaning all body parts.
Many luxurious shower heads can be expensive. As such, you will need to find a shower head type that gives you maximum value for your money – we think that you will find one of the selections on our list a beautiful and well appreciated upgrade to your shower space.