Hey! This site is reader-supported and we earn commissions if you purchase products from retailers after clicking on a link from our site.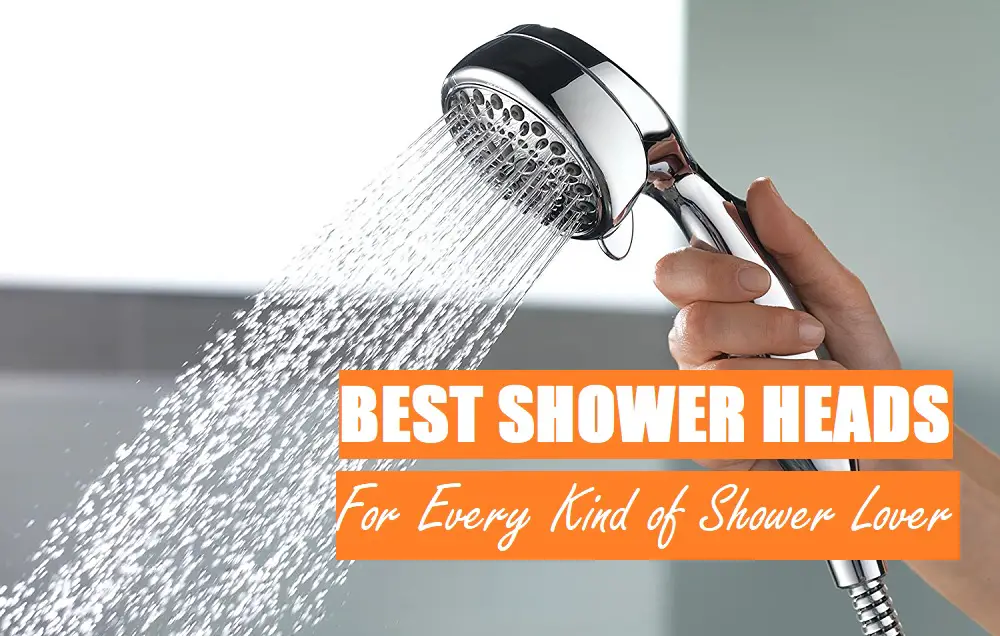 After evaluating 51 brands and 387 models, we broke them all down into 12 types in order to discover the best shower heads that work best for most people.
After all, we couldn't pick only 1 single shower head to rule them all – it wouldn't make sense. What we could do however is show you the absolute top rated model for each of the 12 most popular shower head types. We tailored our picks to your unique tastes – considering function, longevity, quality, and aesthetic. We are excited to share our findings with you – here are our 12 favorite shower heads for every kind of shower enthusiast out there.
Best Shower Head Picks
Speakman S-2005-HB Hotel Anystream High Pressure 2.5 GPM Adjustable Shower Head
This elegant Speakman model delivers the delightful feeling of showering in a luxury hotel bath that features adjustable jets, pulsating massages and a choice of 50 individual streams. The Anystream technology provides 360 Degree directional options through a smooth progression of spray types. Homeowners can install the lightweight engineered plastic fixture that fits standard U.S. connections.
The 2.5 gallon per minute flow control incorporates self-cleaning nozzles that allow this powerful showerhead to lead competitors in delivering a consistently reliable spray regardless of water pressure. This fixture can provide a barrage of water on its massage setting and intense plus massage on the combination setting. The choice of luxury hotels, the Anystream features elegant styling in a polished chrome fixture that complements almost any decor. A flared lip and a belled casing embody the elements of Speakman design, and the internal construction ensures the delivery of 50 full-body sprays. Its eight massage jets enhance the bath experience with powerful streams that soothe tired muscles. Advanced engineering allows a turn of a knob to switch from pulsating mode to therapeutic or gentle rain from its 5-inch diameter showerhead.
SR SUN RISE Luxury 12 Inch Large Square Stainless Steel Rainfall Showerhead
The large showerhead on this model delivers the effect of bathing in a warm rainfall without requiring a custom setup. Its air technology lets it provide a powerful rain shower without regard for low water pressure. With 10 layers of chrome-plated finish, it presents a sleek and fashionable appearance on a fixture that resists corrosion. Silicone gel nozzles prevent it from accumulating lime scale and make it easy for water to flow through freely. The high-quality 304 stainless steel showerhead stands 12-inches high, and it installs easily with a standard G 1/2″ threaded connection.
With a silicone nozzle that resists heat, the fixture can achieve the downpour effect of a summer shower within the comfort of home. The slim lines of this ultra-thin rainfall showerhead bring elegance to a shower enclosure. The drops that fall gently from the fixture imitate those that occur in nature and with warmth and constancy that seem to last forever. The soaking that it provides makes removing the body wash or shampoo faster than powerful jets can do.
Culligan HSH-C135 Hand-Held Filtered Shower Head with Massage
The Culligan name has a history of filtering water, and this model uses its technology in its hand-held filtered showerhead. With five spray settings and anti-clog rubber nozzles, it delivers comfort and efficiency in a showerhead that carries the EPA WaterSense certification.
This showerhead delivers a maximum of 2.0 gallons per minute with a convenient hand-held device that beats the competition for comfort and efficiency. Homes whose water supply contains chlorine or scale or produces a sulfur odor can benefit from the WHR-140 filter cartridge that reduces their effect on skin and hair. The fixture uses a patented filter media that prevents the growth of bacteria, and it lasts for up to six months. The metal hose reaches a convenient five feet to allow comfortable access to muscles that need a soothing massage from five spray settings. It installs on a standard " threaded shower arm to produce the relaxation that comes with welcome summer rainfall.
PISSION Automatically Color Changing Handheld Showerhead
Parents can bid farewell to protests at bath time by children who happily enjoy a colorful display from this Pission showerhead. Seven shades light up the shower stall as the water automatically turns on the LEDs without batteries or wires. Adults can enjoy the peaceful atmosphere from the hand-held shower with three settings as well. The fascination with the lighting enhances the effectiveness of the ion-led rainfall from the showerhead that produces a satisfying and invigorating massage-like shower.
Without tools, an installation can get the fixture up and running in minutes to change bath time from a battle to a pleasure. It connects easily to any overhead shower arm to transform an ordinary shower stall into a delightful color changing LED shower fixture. No magic must happen to make the colors vary as a microturbine generator in the head provides the power for the lights as the water flows through the nozzle.
H2oVibe Handheld Showerhead with Built-in Bluetooth Speaker
This technological model does much more than deliver a refreshing shower with a speaker that pairs with any Bluetooth-enabled device and provides favorite musical selections. Its extra-wide profile provides a drenching bath like a rain shower with a soothing experience that offers a spa-like treat at home. The peaceful escape to relaxation relies on an inordinate amount of water with noise reduction, a dual microphone and a push button for accepting calls.
Bluetooth technology makes this model ideal for a showerhead that provides music and the opportunity to sing along or dance as inspiration occurs. Wireless connectivity for up to 33 feet provides a premium sound that is crisp and clean. The spectacular fixture has a detachable speaker that can turn the bathroom into a mini-concert hall for the time that it takes to enjoy a shower. The magnetic H2oVibe Wireless Speaker works equally well with or without the showerhead. With an operating range of up to 10 miles and play time for as much as 11.5 hours, the Bluetooth V3.O + EDR can enhance a shower experience.
CLOFY 28-Setting Combo Shower Head with Holder & Hose
This CLOFY model doubles the pleasure of showering with two heads instead of one. With 28 combined settings this combo showerhead can provide a massaging spray and many options that involve air. A removable restrictor increases the pressure in the sprays to enhance the effect of rain air as well as the full body spray. The jet spray holes clean quickly and allow the removal of calcium and lime with just a touch.
This model features a multi-layered chrome finish that presents a clean, mirror-like effect that complements any bathroom decor and resists corrosion, scratches and tarnishing. The double showerheads create a champagne-like effect with tiny bubbles that soften and quieten the water flow. A restrictor in the head mixes air with water to produce a powerful stream with less water, a cost-saving measure that does not compromise performance. They work equally well as single or double units, and a lever on the head allows a smooth transition from one to another. The lightweight fixture adjusts for right- or left-hand use.
Niagara Earth Massage 1.25GPM Low Flow Shower Head
This Niagara Earth fixture produces an adjustable turbo massage with its nine jets that can transition from gently peppering by a needle spray to a full stream. With the ability to create an all-encompassing abundance of water, it uses as much as 75 percent less than most low flow models. The advanced technology in the gracefully shaped nozzle uses its pressure-compensating feature, a patented idea, to maintain a consistent flow without regard for variations in water pressure.
The thermoplastic body resists corrosion and features a self-cleaning, non-aerated spray that removes the need for maintenance. By harnessing the force of 1.25 GPM, it saves as much as 30 percent on utility bills. Its superior engineering creates a low flow showerhead that makes it outperform its competitors. The non-aerated water streams help maximize energy savings and prevent loss of temperature. An elegant and graceful fixture in white or chrome plated finish enhances the appearance of a shower enclosure This model carries a manufacturer's guarantee of 10 years.
LORDEAR Flexible Dual Combination Shower Handheld Combo with Adjustable Slide Bar and Stainless Steel Hose
This LORDEAR combo offers options for anyone who prefers something other than the standard height of a showerhead. Anyone who needs to sit for a bath can benefit from a set that includes a fixed showerhead and a handheld shower. It allows short or tall bathers to adjust it to the right level for their height.
The kit includes a suction cup that anchors the sliding showerhead bar so that taller or shorter users can regulate the flow for specific purposes. The versatile fixture offers five functions that include massage and bubble, spray and massage, spray, bubbles and massage. A chrome finish on the fixture enhances the elegance of the shower enclosure. An outstanding feature of this adjustable showerhead allows it to produce water from one or both heads, and it switches quickly from the bottom, both or top. The extra long hose offers no-kink flexibility that delivers water to head or feet with equal efficiency.
Artbath Extra Large Ceiling Mounted 12 Inch Rainfall Shower Head with Adjustable Swivel
This model features an extra-large showerhead that can produce luxurious rain-style coverage for the entire body. The 12-inch round head in polished chrome brings a touch of elegance to the shower enclosure, and its swivel ball lets it adjust to the angle that suits a range of preferences. Its swivel brass ball joint accepts angles in every direction. With air energy technology, this model provides a powerful rain shower with a steady water flow that covers the entire body and brings relief to tired muscles.
With a flow rate of 2.5 GPM, it can save 30 percent on water use while creating the impression of standing under a warm waterfall. A ceiling mount arm places the showerhead in position to generate the all-encompassing abundance of water that chases fatigue and invigorates the body. The combination of air technology, elegant design, solid brass swivel ball connectivity, superior functionality and classic beauty put this model well ahead of other ceiling mount showerheads.
Waterpik XAS-619T Powerpulse Massage 6-Mode Fixed Mount Shower Head
This Waterpik delivers six spray modes with the force and abundance that makes showering a favorite way to relax and rejuvenate with its Powerpulse massage. Its advanced, patented technology creates a force that massages deeply and efficiently. With a power that delivers twice the impact of its competitors, this fixed mount showerhead with a chrome or brushed nickel finish outperforms its competitors with ease. The 3.5-inch diameter head installs in minutes and carries a limited lifetime warranty.
With an array of showering modes that meet preferences for different effects, it offers a PowerSpray that provides an invigorating and stimulating effect, and the PowerPulse massage produces a similar delivery. It offers a full body spray and a full body plus massage option in addition to its PowerSpray plus PowerPulse massage and a water-saving trickle. The versatile model enhances the pleasure of showering with modes that produce a click as they slide into place.
Delta 7-Setting Handheld Showerhead
This Delta handheld delivers the shower that everyone hopes for with seven settings and a pause feature that slows the flow to a trickle. It offers a fast massage spray for a quick pick-me-up and a full spray with massage as well. The range of options includes a full body spray, a drenching spray, a soft rain spray and soft drench with full spray. As a superior massaging showerhead, it offers a dual-purpose function as a handheld shower unit as well as a fixed one. Its contemporary styling features a handle that comfortably fits the hand and aids in bathing a child or a pet.
Any calcium or lime buildup on the soft rubber spray holes wipes away easily with just a touch. The trickle setting comes in handy for lathering up or shampooing without interference. It retains the heat from temperature settings when the pause button releases, preventing the waste of hot water and preserving natural resources. It uses 2.50 GPM with 80 psi water pressure. This model features a tangle-free hose that measures six feet to deliver water conveniently, and it carries a 15-year warranty.
Esnbia Luxury Rain Shower Systems Wall Mounted Shower Combo
This unique model offers unsurpassed luxury and comfort with a 12-inch square fixture that delivers a rain-like shower. The quality fittings that come with the showerhead include almost five feet of flexible hose, a brass handheld head, a 16-inch shower arm of brass, a shower holder and a water control valve. Brass is a sign of quality in plumbing fixtures, and this model features the best materials in its luxury showerhead. The square fixture and the handheld head increase water pressure to create a consistently powerful shower with unexpectedly high psi regardless of the low pressure in the supply lines.
The 304-stainless steel material and brushed nickel finish properly represent a luxury fixture that transforms the appearance of a shower stall into an elegant enclosure. Corrosion-resistant and highly durable, this model has a sleek appearance that complements any bathroom decor. Advanced technology in the fixture allows it to use a pressure-balanced valve that maintains an almost constant water temperature while preventing any pressure change in the hot or cold supply. A safety feature of the luxury fixture, the valve prevents scalding injuries to unsuspecting bathers, especially the infirm or elderly, children and infants.