You know what's a pain in the neck? Trying to master the art of yoga in the shower so you can reach and wash your back! Even then, you struggle to scrub it all. If only there was some way to wash the back without have to twist, turn, and stretch yourself at odd angles. Turns out, there is—a nifty back scrubber. These tools have your (forgive us) back when it comes to getting yourself squeaky clean.
We've compiled a list of some of the best back scrubbers out there, as well as some tips for selecting the best one for you. Take a look.
What is a Back Scrubber?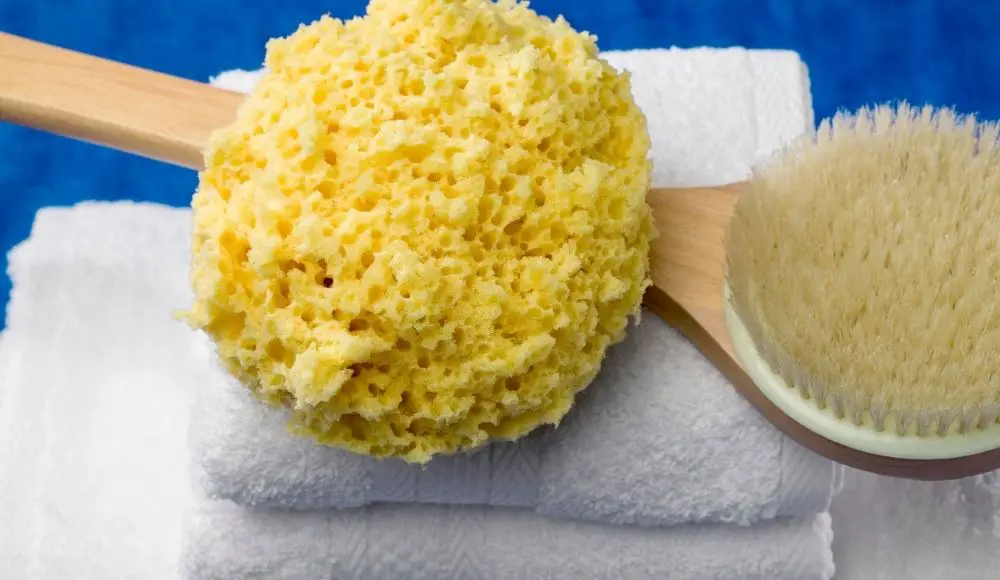 A back scrubber is a tool that extends your reach, so you hit various spots on your back that you can't usually reach. Back scrubbers often look like larger brushes with long handles, but there are many types available.
There are a couple of things you want to consider when shopping around for a back scrubber, such as the level of exfoliation. If you are looking to use your back scrubber everyday or every other day, or if you have very sensitive skin, you want a softer material. Natural sea sponges and loofahs are ideal for daily use. The rougher the material, the deeper the exfoliation. Back scrubbers with bristles are going to exfoliate much more thoroughly and should only be used 2-3 times a week, maximum.
Other things to keep in mind include:
Ease of use. Make sure the design is not complicated and that you can handle the item naturally.
Material type. Plant-based materials, silicone, animal fur fibers, and synthetics are all available.
Abrasiveness. As mentioned above, you want a scrubber that suits your particular skin type.
Ease of cleaning. Your scrubber should be easy to rinse after use.
The 6 Best Back Scrubbers for the Shower

When we went about searching for the best back scrubbers around, we kept the aforementioned features in mind. How durable is the material and design? Is the material soft enough for sensitive skin? Does the product exfoliate as promised? Is it easy to handle? There are plenty of scrubbers out there, but there were six products that stood out and earned our seal of approval. They even pair well with massaging shower heads, making every moment in the shower feel like a day at the spa.
Check out our top favorite back scrubbers below:
The Aquis Original exfoliating back scrubber is an excellent product with thousands of super satisfied reviews. And we have to agree with other opinions—this back scrubber is awesome. The back scrubber is 30.75 inches long, has two soft handles, and is two-sided, so you can both exfoliate and massage your back. The materials are durable yet very flexible, letting you get to hard to reach places. On one side, the woven loofah-like fabric polishes off the dead skin that you loosened up with the exfoliating side. Since the product offers gentle exfoliating, you can use it daily without any skin irritation.
Pros
Double sided: loofah exfoliator on one side, microfiber massager on the other
Easy to clean
Doesn't retain moisture, so it won't smell
Two handles and long length make it easy to use
You can use it all over your body, not just your back
Cons
Does not lather well
Narrow
Strip might fold over as you brush
Sometimes, the rigidity of boar bristles or similar can be intimidating, especially if you just want to wash your back, not mangle it. That's where products like the HONOMA body bath brush come in handy. The bristles are made of a soft nylon that gently removes dirt and dead cells from the skin. The 17.5-inch long ergonomic handle is curved enough to give you extra reach for all those places you usually can't access. When you're done scrubbing your back, simply rinse the bristles and turn the brush upside down to air dry.
Don't want soft bristles but love this design? A stiff bristle version is also available.
Pros
Ergonomic and durable design
Gentle nylon bristles for light exfoliation
60-day unconditional guarantee available
High quality yet inexpensive
Longer than average handle
Cons
Handle might be a bit wide for small or arthritic hands
Looking for a back scrubber that can be used to exfoliate everywhere? Check out this exfoliating loofah pad for Almooni. The natural Egyptian loofah has a light texture that gives you soft, radiant skin. On the opposite side, the pad has a terry cloth for removing oil, dirt, and debris. The durable construction uses anti-fray technology and a loop to hang the pad for air drying. Lathering is quick and produces luxurious suds.
Pros
Excellent for a full body scrub
Package comes with 2 double-sided loofah pads
Loofah offers mild exfoliation
Reasonably priced
Quality construction and materials used
Cons
Does not extend your reach
A classic mainstay for the shower is the shower pouf. This triple-pack from MainBasics is highly affordable and comes in delicate colors to match your bathroom theme. When paired with your favorite body wash, these poufs produce a rich, indulgent lather. The mesh is soft and gentle but will give every inch of your skin a thorough clean. The tie on the end lets you hang the pouf for air drying. Since the manufacturer is ISO 9001 certified, you never have to worry about the loop fraying or coming apart.
Pros
Gentle cleansing scrub
Produces rich lather and lots of bubbles
Made with a fine mesh for gentle exfoliation
Perfect size for children and adults
Cons
Limited reach since it doesn't come with the handle
Smaller than advertised
Silicone is an excellent choice for people with highly sensitive skin. The massaging side of this scrubber is another bonus. Weikin truly outdid themselves when they made this silicone bath body brush with its unique 2-in-1 design. Not only do you get a silicone pad that rotates, ensuring your back is 100% clean by the end of your shower or bath, but you can also ease aching muscles with the massaging side. The 14.5-inch long ergonomic handle features a wavy non-slip grip and non-slip logo for your thumb. Best of all? Silicone doesn't house bacteria and germs!
Pros
Brush head rotates a full 360-degrees
Durable construction
Extra-long handle is ergonomically crafted
Massage your back muscles then exfoliate with the gentle silicone brush
Quick drying design
Cons
Head is a little small
Maybe you can't decide what kind of back scrubber you want, or maybe you want to turn your shower into a miniature spa. Either way, this exfoliating kit from Gaxcoo has you covered. The kit comes with a pair of exfoliating gloves, a body brush with natural bristles, and a back scrubbing loofah that is similar to the Aquis model. You'll be able to quell your blemished skin, exfoliate head to toe, and feel more relaxed with every shower. The back scrubbing loofah has two sides—one for exfoliating and another for massaging the skin. You grab both handles and pull one side or the other for a deep, satisfying clean. The kit also comes with a hook for the shower, so you can hang everything to dry once you're finished.
Pros
Contains everything you need to exfoliate your whole body; with the three items, you also get various levels of exfoliation.
Long back scrubber is flexible enough to reach every part of your back
Reasonable price for the kit
Brush and back scrubbing loofah are chemical-free
Cons
Durability is lacking, especially with the loofah
Brush and gloves may be too harsh for sensitive skin
How Do I Scrub My Back in the Shower?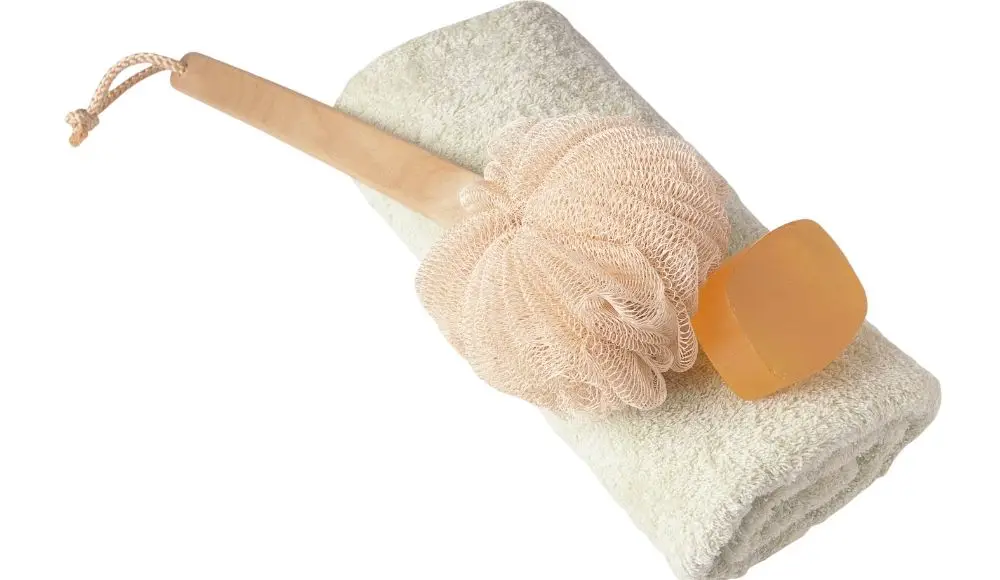 Now that you have found a couple of back scrubbers to purchase, let's learn the proper way to use them. That way, you'll get all the benefits of the back scrubber and feel refreshed when you leave the shower.
If you're using a pad or cloth back scrubber:
Wet the cloth section and add your favorite soap or body wash;
Place the pad or cloth on your back and grasp both handles;
Scrub back and forth, up and down until you've gotten your entire back.
If you're using a brush back scrubber:
Add soap and water to the bristles;
Hold the handle and start to rub your shoulder blades;
Proceed downward, scrubbing up and down;
Once finished scrubbing your back, rinse the suds from your back scrubber.
You can use your back scrubber every other day. Don't over-exfoliate, because that can irritate the skin on your back and cause zit breakouts. If you want to maximize the exfoliating, choose a body scrub, such as a natural sugar or coffee ground scrub.
Benefits of Using a Back Scrubber
There are many wonderful benefits to using a back scrubber in the bath or shower. For those who are less mobile or flexible, a back scrubber enables you to reach the entirety of your back, as well as other difficult to reach places on the body. Here are a few other reasons why you should consider purchasing a back scrubber:
Method of safe exfoliation – You aren't just cleaning your back—you're exfoliating it and removing excess grime, dead skin cells, and other impurities that cause pimples and other skin conditions.
Improves circulation – The massaging motion and exfoliation assist with increasing blood circulation to the back, which promotes cell renewal.
Cellulite reduction – Scrubbing, massaging, and exfoliating the skin reduces the fluid under the skin that cause cellulite.
Massage – Some scrubbers have massaging nodules that dig in deep to help release the tension and stiffness from tired muscles.
Removes toxins – Improved circulation and massaging helps flush toxins from the lymph nodes, making you feel much more energized.
Better product absorption – When you exfoliate your skin, any skincare products that you apply afterwards absorb much more easily.
Are Silicone Back Scrubbers Good?
Silicone scrubbers have become a staple in skincare and hygiene for a few great reasons. At many beauty stores, handheld silicone scrubbers come in every shape and size, including travel sized ones for your face. Such scrubbers generally have rounded silicone bumps or bristles that remove grime and dirt from the surface of your skin.
People with sensitive skin will enjoy silicone scrubbers much more than harsher options, since silicone won't damage the skin or leave angry red scratches everywhere. Silicone is also somewhat sticky and capable of grabbing dirt that is deeper in the pores than some other materials. This is ideal for individuals who wear a lot of makeup or who do a lot of physical activity and profusely sweat.
Final Thoughts on the Best Back Scrubbers
Nothing beats a back scrubber or brush, especially when you want to show off glowing, healthy skin. Extend your reach, exfoliate your back, and soothe your muscles with any of the back scrubbers that we've mentioned in this article. Longer handles are great when you lack mobility, while smaller products, such as the bath pour, will whip up a luxurious lather. And if you can't decide, here's an idea: Why not combine a couple of back scrubbers and a luxury shower head to transform your bathroom into your own personal paradise?